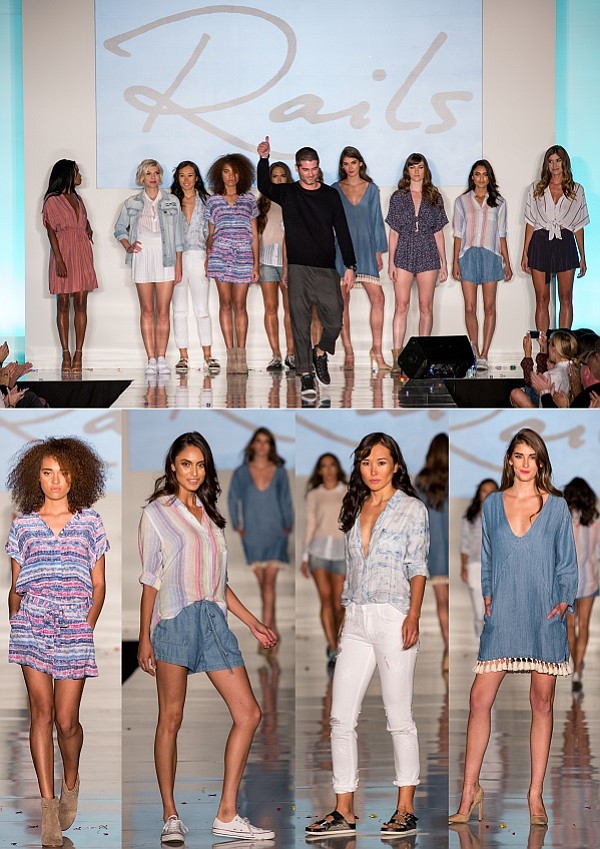 LOS ANGELES FASHION WEEK
FBI's Fashionable Fund-Raiser
For its sixth-annual All Aboard Runway Show & Fund-Raiser, Fashion Business Inc. returned to Union Station in downtown Los Angeles for a wide-ranging fashion evening that celebrated everything from James Bond-inspired eveningwear to contemporary women's and menswear to childrenswear and sun-protective apparel.
The Oct 18 event was hosted by David Ono, co-anchor for ABC7 Eyewitness News and featuring musical performances by David Longoria and April Diamond.
On the runway, eveningwear designer Alexis Monsanto took inspiration from James Bond films for a runway show that featured everything from sophisticated resortwear to gold gowns worn by models in gold body makeup.
Other collections on the runway included childrenswear featuring cartoon graphics by Komo-Va; contemporary men's streetwear by Adam Mar and Punchline Apparel; contemporary womenswear by Stellan & Wylde; activewear by Assisi; glitzy men's suiting by Angelino; and glamorous eveningwear by Warden Neil and Cara Monday's Godz and Godezzes.
The evening also included the presentation of several awards, including FBI's member of the year award, which was presented to Patricia Ferrer for her Palmfree Sunwear collection of sun-protective apparel, which benefits burn victims in Mexico. Accounting firm Moss Adams, a sponsor of the event, presented its Moss Adams Fashion Innovator (MAFI) award to Rails founder Jeff Abrams. Founded in 2008, Rails has grown into a full lifestyle collection that is sold in 1,000 doors around the world.