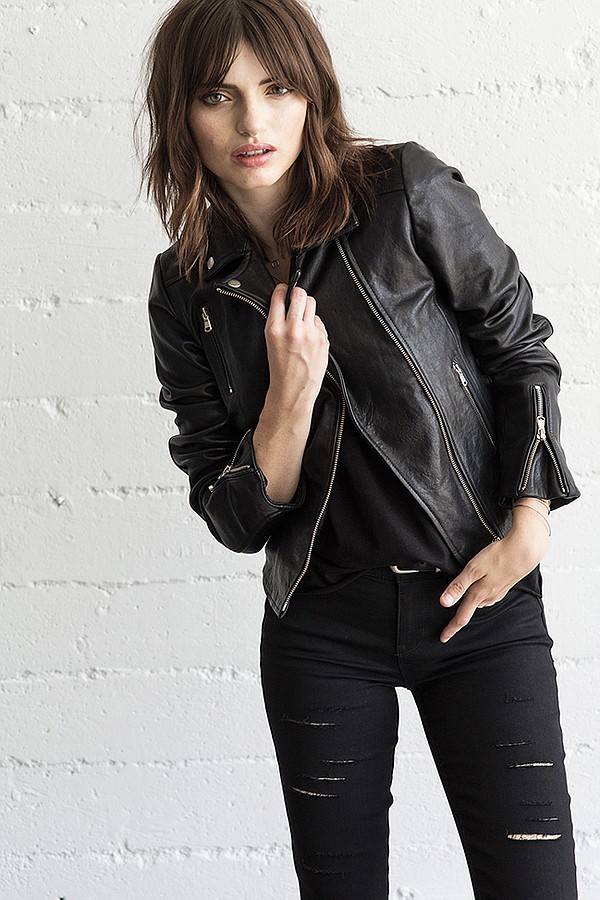 DSTLD
DSTLD: Building the Wardrobe One Premium Piece at a Time
When DSTLD launched two years ago, the company focused on premium denim and luxury tees. After two years of design development and brand building, the company is preparing to provide consumers with an entire wardrobe of luxury basics.
"We launched with premium denim, which is one of the hardest things to get right—the right fit, the right fabrics. That was challenging," said Corey Epstein, DSTLD co–chief executive officer and creative director.
Because the company is based in Los Angeles, premium denim seems to be an appropriate jumping-off point, Epstein said.
"The goal was always to become the DSTLD closet," he said. "Denim was the anchor."
Epstein and business partner and co-CEO Mark Lynn set out to build a DSTLD closet of "essential, timeless pieces."
Within the next year, Epstein estimates, DSTLD will have fully developed an "essential closet" of about 200 pieces for men and women. Once complete, DSTLD will begin filling in the closet with seasonal and capsule collections.
"We see DSTLD as a full lifestyle brand," Epstein said.
To develop the collection, DSTLD hired former Kill City designer Paul Roughley in April. Roughley has been designing and building out the DSTLD wardrobe, but, as Epstein points out, the process takes time.
"We spent two years developing the women's moto jacket," Epstein said. "I bet we will have our moto jacket in the line for 10 or 15 years with minor modifications. "[And] we've done work on the denim. They are the right size right out of the box."
DSTLD has the luxury of taking time to perfect the styles and fit because the company sells direct to the end consumer rather selling through traditional wholesale channels.
"Traditional brands don't look at tolerances the way we do," Epstein said.
Roughley, who describes the look of DSTLD as "elevated basics in a limited color vocabulary," is currently building the DSTLD collection, which eventually will include everything from jeans, tops, outerwear and hats to underwear, socks, gloves, bags and luggage.
"I came in to put merchandising in place where I felt there were holes," he said.
DSTLD's elevated casual" style is "very much LA," Roughley said. The brand's signature style echoes the luxe jeans, tees and jackets style of California's creative class.
DSTLD jeans, T-shirts and cut-and-sew knits are made locally while more-complicated items such as leather and outerwear are made in India or China, Roughley said. Other pieces are made in Mexico, Italy and Spain.
Roughley has been working with domestic and international suppliers to find factories that can meet DSTLD's quality standards—something Roughley said goes against typical sourcing criteria.
"The factories' habits lean to saving money and how can we make it cheaper," he said. "I would rather go back and say how can we make it better. You can spend a lot of time in the development process before you find out it's not right. It's a fact-finding mission, but we're not beholden to set deadlines."
Key items in the collection include leather moto jackets and bomber jackets for men and women. Jeans come in black and blue with a range of washes, and Roughley recently added a new men's style he described as "a nonsporting polo—so you don't feel like you're going to a golf course."
There is a hat program that includes a suede style with full-grain leather trim, a lamb's-wool style and another in silk. The hats have minimal branding and are finished inside in cotton twill or silk.
Prices reflect DSTLD's direct-to-consumer model. Hats are priced from $30 for a French twill style to around $40 for wool and $60 for suede. The women's leather moto is currently the highest-priced item in the line at $350. (Next, Roughley is looking to do a version in suede.) A men's lambskin coat is priced at $300. A wool three-quarter-length coat with leather trim is $175.
"There's no magic trick," Roughley said. "It is a $500 coat that will be $175 at retail. That goes across the board."
DSTLD introduced a limited-edition Japanese selvage jean, which sold well at $125. (Non-selvage jeans sell for $65.)
"We're looking at doing a selvage jean jacket now," Roughley said.
Leveraging data and consumer investors
Epstein's background includes photography, design and creative direction while Lynn worked in the luxury hospitality business and e-commerce before launching DSTLD. The two are leveraging the data-rich benefits of e-commerce to build DSTLD.
"We use a lot of real-time data to make decisions," Epstein said. "When you are direct-to-consumer, you own all the data. I can tell you what is selling in the past hour right on my cell phone."
All this data helps DSTLD forecast and reduce waste by concentrating on styles and sizes that are selling best. For example, Epstein said, DSTLD's black skinny jeans sell better in smaller sizes.
"The next evolution in the data is projecting success of the styles—where we should go next with the collection," he said.
This sophisticated analytical data helps Roughley, as well, the designer said.
"We are constantly updating availability," he said. "We know what the customer is looking at and in what region. We know how much is in the basket versus what they actually buy."
Last year, Epstein and Lynn began looking into finding investors in the company. In addition to investments from Plus Capital, CAA Ventures, Wavemaker Partners, Baroda Ventures, Amplify.LA and CrunchFund, the company also began soliciting small-scale investors thanks to provisions in the JOBS (Jumpstart Our Business Startups) Act of 2012, which opened up funding opportunities for small businesses in the U.S.
Information on investing in DSTLD can be found on the company's website, www.dstld.com, or at www.seedinvest.com.
"Anyone can invest as little as $500, and we now have 1,000 customer investors," Epstein said. "What better brand-ambassadors program can you create?"