TECHNOLOGY
Gerber Technology Shares Sold to American Industrial Partners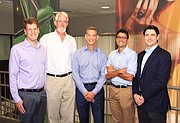 San Francisco–based private-equity firm Vector Capital has sold its shares in software and equipment maker Gerber Technology to American Industrial Partners for an undisclosed amount.
Tolland, Conn.–based Gerber Technology provides software and system solutions to more than 78,000 customers worldwide working in the aerospace, construction, furniture, fashion and apparel, transportation, technical textiles, packaging, wind energy, and sign and graphics industries. The company's products include CAD software for pattern design and grading, PLM (product lifecycle management) software and automated systems for material preparation and production.
Vector Capital has owned Gerber Technology since 2011, when it took the company private. Since then, Gerber Technology has invested in innovation to release new products, streamlined its manufacturing operations and expanded its international presence.
"With the full support of Vector, we have invested to broaden our product offerings and expand our global reach to provide customers with automation solutions that reduce their time and expense to market," said Michael Elia, chief executive officer of Gerber Technology, in a company statement.
"Vector has been a great partner in transforming Gerber into a world-class leader in automation solutions."
Based in New York, American Industrial Partners is a middle-market private-equity firm that specializes in buying industrial businesses headquartered in North America. The company has completed more than 50 acquisitions and invests in corporate divestitures, management buyouts, recapitalizations and going-private transactions of businesses with revenues of $100 million and up.