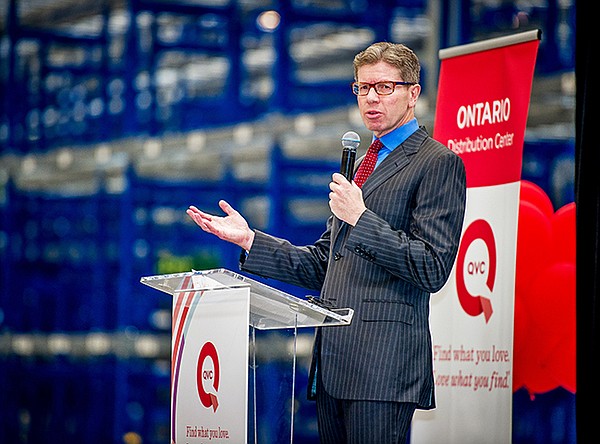 QVC
QVC: Living Large With First West Coast Distribution Center
Everything about QVC Inc.'s first West Coast distribution center in Ontario, Calif., seems big.
The 30-year-old cross-channel retailer, headquartered in West Chester, Pa., recently announced the grand opening of the compound, located less than 40 miles east of downtown Los Angeles. When it reaches its full capabilities in 2020, the new D.C. will utilize 1 million square feet of space—or more than 22 football fields.
The Ontario site is anticipated to handle more than 20 percent of QVC's total shipments. Its existing distribution network has shipped 570,000 units in a single day, according to a QVC statement. It currently runs four other distribution centers—in Suffolk, Va; Lancaster, Pa; Rocky Mount, N.C.; and Florence, S.C.—all of which will remain open.
In four years, 1,000 people are expected to work at QVC's California distribution center. The new center is intended to deliver QVC orders faster and more efficiently to people on the West Coast, said James Reid, vice president of distribution operations at QVC.
QVC started operations on cable in 1986 and has kept pace with the fast-changing technological environment. Consumers can buy fashion, jewelry and electronics as well as beauty products and homewares through the company's e-commerce and mobile shopping.
Well-known designers such as Bob Mackie have sold clothes on QVC. Celebrities seen on the channel have included Nicole Richie selling her Nicole Richie Collection and Ellen De Generes representing a home décor line.
Apart from theatrical projects, QVC has turned into Mackie's main business. Did he expect to be a QVC star when he started at the business in 1991? "Never in a million years," he said. Friends encouraged him to take a chance on QVC. He wasn't entirely sold on the project at first. However, it was not much of investment of time. He sold his scarves and jewelry a few times every couple of months on the stage at QVC's main studio. It had a bank of telephones beside it where orders were taken. He remembers that after pitching products at shows, salespeople had to stay at QVC and ship goods that they sold. Fast forward a quarter century, salespeople no longer ship what they sell because they often sell hundreds and thousands of orders. Currently, Mackie works at QVC monthly selling his separates. "It's affordable," he said of his QVC products. "It's not ridiculously cheap. [QVC] does not want returns because things are not made well. That's the whole point. It is a bargain but is well made. They're very fussy about that."
According to its second quarter 2016 results, which were released on Aug. 5, QVC's American e-commerce revenue increased 11 percent to $727 million. E-commerce was 51 percent of the company's total U.S. revenue. The company's range is worldwide, however. Its programming is seen throughout the globe in places ranging from the United Kingdom and Germany to China and Japan.
QVC's U.S. revenue increased 2 percent to $1.4 billion in the second quarter. QVC has not been able to avoid the tough times that affected much of U.S. retail this year. Mike George, chief executive officer and president of QVC, reported a solid business during its most recent second quarter. "Late in the quarter, we experienced a deceleration in demand in the U.S. that has continued," he said. "As a result, our near-term perspective is more cautious."
QVC's pool of direct competitors is small. HSN Inc. and Evine also sell consumer goods on its cross-channel networks. However, competition has increased. Earlier this year, Amazon.com launched video show Style Code Live, which offers direct sales and builds brand awareness of Amazon's fashion business. The show is streamed on Amazon.com.
A changing culture also might pose problems for QVC, said Paula Rosenblum, managing partner of RSR Research. "They have a similar challenge to other companies like Nordstrom," she said of retailers that grew rich from serving baby boomers and Generation X customers. "[These shoppers] are aging out of their discretionary income years, and a new generation has other alternatives. The game is changing."
Another looming issue for QVC is the success of social networks. When QVC started in the Reagan era, it served as a social network. Callers to various QVC programs loved talking to program hosts and each other on air, Rosenblum said. But that function is increasingly challenged by the endless array of social-media sites.
One thing that has helped QVC in the past, however, is that it has been great at building audience loyalty, Rosenblum said. Over the past decades, the company has developed a unique environment that has kept its audience engaged and buying goods, which has been an increasingly elusive quality in the recent past.