IMPORT/EXPORT
Thousands of Fake Ferragamo Shoes Seized at LA Ports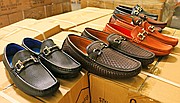 Nearly 8,000 pairs of shoes bearing fake "Salvatore Ferragamo" labels recently were seized by U.S. Customs and Border Protection agents at the ports of Los Angeles and Long Beach.
The 7,800 shoes arrived in two separate shipments from China on July 20. If they had been real Ferragamo shoes, their retail value would have been $4.3 million.
"These seizures demonstrate the high level of skill and vigilance of our officers in protecting the intellectual-property rights of companies and individuals as well as preventing the proliferation of counterfeit luxury footwear, potentially damaging our national economy," said Sergio Espinoza, CBP's acting port director for the Los Angeles/Long Beach Seaport.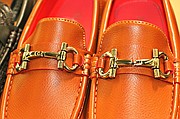 Customs officials said the amount of knock-off merchandise seized at the nation's ports in fiscal 2015 amounted to $1.35 billion, up 10 percent from the previous year. The top five countries sending those counterfeit goods are China, Hong Kong, Singapore, Romania and Turkey. China accounted for 52 percent of the value of the goods seized in 2015.
Most counterfeit goods are sold on websites and in underground outlets or swap meets. Government officials said profits from many counterfeit operations are used by drug cartels or criminals involved in illicit activities.
Apparel, electronics and footwear make up the greatest number of counterfeit and pirated items seized by U.S. customs officials.