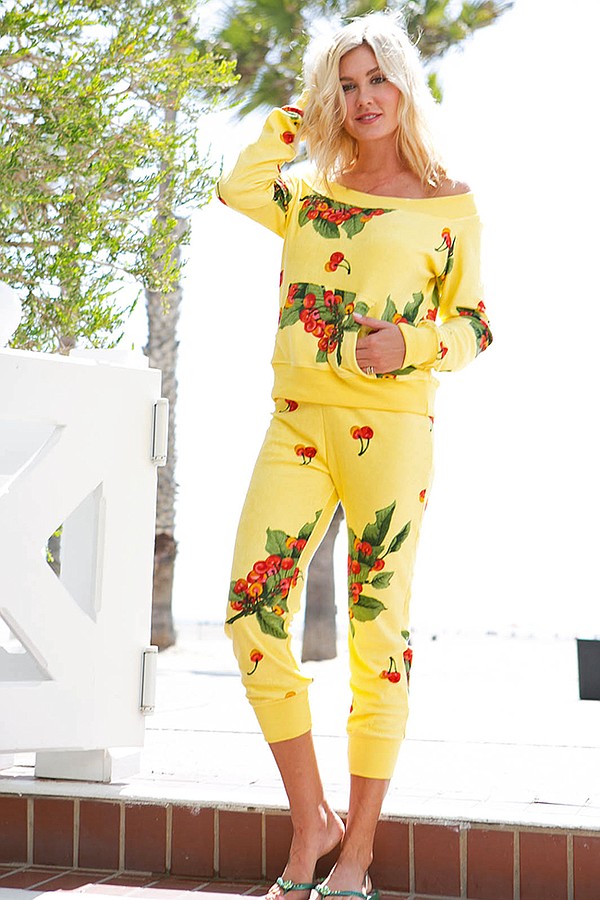 HIPPE BEACHBUM
Hippe BeachBum: Life of the Beach Party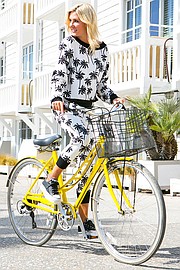 Beaches and beach lifestyle are geared toward fun, said designer Norma Morrow, and someone needed to inject more of a sense of fun into the scene.
Earlier this year, she and designer Sharise Neil introduced Hippe BeachBum. It's a made–in–Los Angeles line designed to display a joie de vivre in its graphics and design.
Some of Morrow's sense of fun is rooted in the hems of the 120-piece line. Some of Hippe BeachBum's shorts feature small pom-pom balls dangling from their edges. The line's "Beach Cruiser" crop pants bear lace trims on their hems. Some of the line's cover-ups have a playful shag fringe on the hem.
The sensibility makes its way to words and graphics. One T-shirt bears the slogan: "When in Doubt, Vacation." Another T-shirt features a graphic of a pineapple made up of colorful rhinestones.
The line's pullover tops also get into the game. One features a graphic of Carmen Miranda, a 1950s samba singer and actress whose unique fashion style helped develop a cult following around the world. Other tops bear gold-foil graphics of mermaids and seahorses.
Adding to the line's colors are its prints that include tropical and fleur de lis prints. The garments are made out of fleece, velour and Supima cottons.
"You're not going to come to Hippe BeachBum for basics," Morrow said. "We do make basic pants, but you must wear a playful top along with it," she said.
Morrow has worked as an actress and as a designer during her career. From 1979 to 1997 she was creative director and owner of a line called Bodalia, which she said was placed at high-end department stores such as Neiman Marcus, Saks Fifth Avenue and the now-defunct I. Magnin.
Wholesale price points range from $24 to $58.
For more information, contact the Sabrina Showroom at the Cooper Design Space in downtown Los Angeles.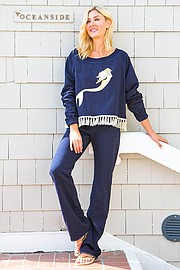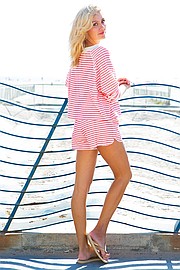 RELATED STORIES