TRADE SHOWS
Between-Market format Works for Growing Region Trade Show The OC Mix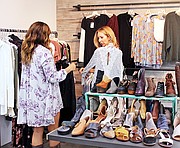 Providing a relaxed environment for regional contemporary brands and buyers, the OC.Mix Show saw a continued upswing in growth for its third edition, held Sept. 13–14 at the Irvine, Calif., headquarters of organizer Z Supply.
Buyers from Southern California boutiques M.Fredric, Laurenly, Prism, Hail Mary, Rags & Stones and The Fort and The Clubhouse were among the retailers that attended, along with Arizona-based boutiques 42 Saints, Roka and Bilby & Moss.
"The regional rep shows are gaining in popularity because they make it easier and more convenient for the retailers to shop the lines at their own pace in a smaller setting," said Greg Garrett, cofounder of Z Supply LLC.
"The bigger, national trade shows like Project, MAGIC and Coterie are still important to brands, especially those launching new collections."
Both reps and buyers were happy with the quality of participants, and many brand representatives cited an increase in business.
"We saw a 35 percent increase in business our first day this show compared to the last," said Free People's Justine Inman. "There has definitely been an increase in foot traffic, and we expanded our business in Arizona with this show."
Tina Fleming, with The Village Showroom—which represents Chaser, Joy Dravecky and Mila —said buyers appreciate the small show's intimate atmosphere. "We have noticed that once buyers come they always return," she said. "Everyone feels like they are taken care of."
Sheena Cartisser of the WBC Showroom, which represents Level 99, reported "a very busy first day and solid second day."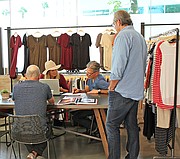 "This show is nice because it's convenient for us and manageable for the buyers," she said.
First-time participant Kasey McKenna, sales representative for Bella Dahl, was also pleased. "This show is easily accessible, and we've seen accounts from Santa Monica to South [Orange] County," she said.
The show made it especially easy for accessories brand Chan Luu, said Account Manager Lanae Mackey. "Being an accessory company, our line is really large and difficult to take on the road," she said. "By showing here, we opened new accounts and were able to easily display our current collection."
This was the first time at the OC.Mix for retailer Jeanne Wilson, owner of Bilby & Moss in Sedona, Ariz.
"I usually do [the trade shows in Las] Vegas but not LA Market," she said. "Getting from LAX to downtown is too much of a headache. I love the ease of flying into John Wayne Airport and the show being across the street. This has been a nice venue, well catered, and I found what I was looking for to complement my store. I just discovered L*Space has hats, which I think will do really well for us."
The next OC.Mix show is slated for January.
"We are working with reps between shows when it makes sense for their line breaks," said Tony Sanchez, Z Supply's director of sales.
For more information, visit www.zsupplyllc.com/ocmixshow.