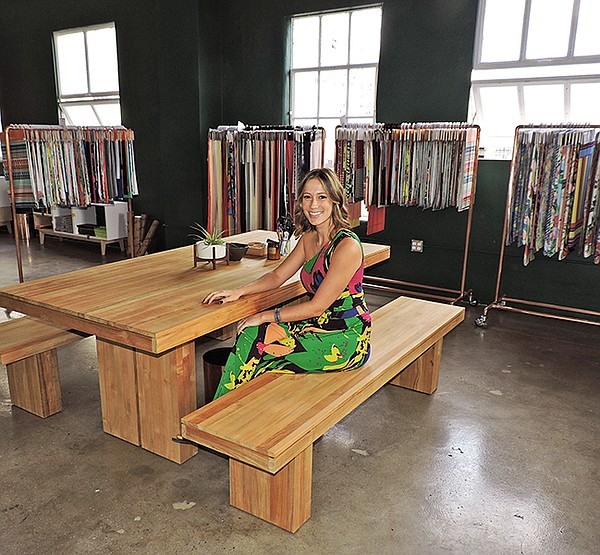 KALIMO OPENS IN DTLA
Brazilian Mill Kalimo Opens in DTLA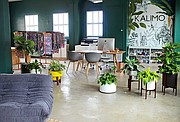 After a successful run at the Los Angeles International Textile Show last March, Brazilian mill Kalimo opened a permanent showroom in downtown Los Angeles.
"We believe in the market here," said Julia Culau, who runs the Los Angeles office, located in a top-floor showroom at 309 E. Eighth Street. "We're confident we have fabric offerings for the LA market."
Founded more than 30 years ago, Kalimo is a vertical mill that specializes in digital prints and novelty knits.
Culau moved into the new space in July and officially opened the showroom at the beginning of September. The light-filled space features two walls of windows, jungle-green walls and plenty of tropical plants. There is space for three salespeople and a designer to work with clients.
Kalimo has five showrooms throughout Brazil, but this is the company's first in the United States. Kalimo calls its showrooms Lab K—the Los Angeles showroom is called Lab K–LA—to encourage clients to be creative with Kalimo designs.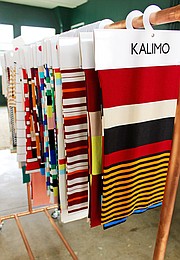 "Our showroom is a laboratory to experiment and try new things," Culau said. "We can get close to the clients and approach them in a personal way. They are here in our world."
Kalimo's Lab K-LA carries a large inventory of the company's prints—and even more available online. If a designer wants to customize a Kalimo print, he or she can work with Culau's team in the showroom and print the new design on paper onsite. The showroom has an Epson printer with the Pantone Matching System to ensure accurate Pantone colors on all printouts.
The mill can print any of its digital prints on any fabric, including wovens and knits, in fabrications including rayon, cotton, linen, lyocell, polyester, poly/spandex, rib jersey or ponte.
"We have a double-faced rayon/polyamide that's good for activewear," Culau said. "It isolates the temperatures, absorbs moisture and acts like a natural [fiber]."
The mill has two print collections, one for contemporary brands and another for activewear. Kalimo works with Brazilian swimwear labels such as Salinas, Lenny and Vix. The mill also has a novelty knits collection, which includes oversized, yarn-dyed rugby stripes.
"You need a special machine to do the extra-wide stripe," Culau said.
Because Kalimo is a vertical operation, Culau explained, customers can put together a complete collection in a range of fabrics.
"In Brazil we have a tradition of quality and textile history. It is our identity. It is where we are from," she said.
The company's minimums are as low as a single roll for basic colors. Kalimo also has a large range of stock colors. Minimums for special orders can vary between 150 yards and 300 yards, depending on the style. Sample yardage is printed in Brazil and delivered within two weeks.
"We want to develop relationships with clients—not something short-term," Culau said. "We want to bring the Brazilian way of making things—creative and fun."
For more information, contact the showroom at (213) 628-3953 or office@kalimo.com.br or visit www.kalimo.com.br.