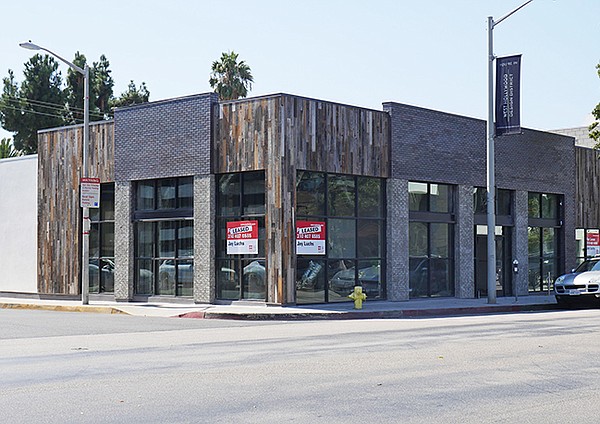 RETAIL'S NEW STREETS
Retail Industry Focus: Southern California Retail's New Streets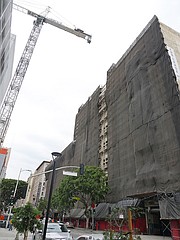 Even in a challenging retail market, opportunity knocks for Los Angeles' shop owners. Entrepreneurs continue to open in the megalopolis's established retail neighborhoods, but they're also pioneering newer enclaves. California Apparel News recently surveyed real estate experts to find out where the new action is taking place and looked for updates on some of the region's top retail neighborhoods.
DTLA at crossroads
As construction cranes build hundreds of luxury lofts in downtown Los Angeles, many entrepreneurs are still making their minds up about the extent of fashion retail demand. But plenty of companies are ready to take a risk on a district that until recently was best known for blight.
High-end eyewear boutique Mykita moved into the ground floor of the art deco Eastern Columbia Building, on the corner of South Broadway and East Ninth streets in downtown Los Angeles, on Sept. 20. It's about a block away from the former site of Oak NYC. When the hip New York retailer opened in 2014, it was heralded as proof that the era of luxe retail had arrived in downtown Los Angeles. But the company recently shuttered its downtown store after the founders split from former owners American Apparel. Oak still runs a Los Angeles store on Beverly Boulevard.
Moritz Krueger, Mykita's founding partner and creative director, could have easily opened the designer flagship in Beverly Hills, a place proven to attract a wealthy customer. But he thought downtown Los Angeles' bustling energy best represented his brand.
"There's creative freedom here," Krueger said. "Creative people are bringing their ideas and entrepreneurial energy."
More high-end retail is in the works. It was announced earlier this year that H&M division COS is moving into a former theater space on the 300 block of West Eighth Street in downtown. Hatchet Outdoors Supply Co. opened earlier this month in downtown's Arts District, bringing more apparel to the enclave pioneered by retailers Guerilla Atelier and Apolis. By November, developer The Runyon Group is scheduled to open pop-up shops at Row DTLA, a 30-acre retail and creative office campus located between the Arts District and Warehouse District. Boston-headquartered hipster boutique Bodega also announced that it will be opening a shop there.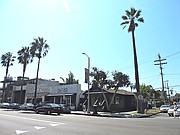 Little Tokyo's boutique scene is reportedly thriving on the east side of downtown LA while on the west side a wave of new retail might open as renovated mall The Bloc, formerly Macy's Plaza, announces new stores. New shops are expected when Broadway Trade Center, near the corner of Hill and West Ninth streets, is scheduled to open for business in the next few years. Space is a relative bargain in downtown. The median price is $3 to $5 for a square foot of commercial space, said Brigham Yen, a realtor and editor and publisher of the blog DTLA Rising.
But retail has not grown as quickly as its potential, Yen said. The traditional center of retail in downtown, its Historic Core District, remains blighted, with a large population of homeless and low-end, swap meet–like retail, he said. High-end boutiques have been forced to open around it.
"People don't feel safe when they walk through there," he said of the Historic Core. "It's not clean, it's dirty. As a retailer, it's a big risk to put a store there. That's why it takes pioneers like Urban Outfitters [which opened in 2013 in the heart of the Historic Core on Broadway] to build a little momentum." However, Yen believes that downtown should overcome its challenges. "We just need a critical mass [of retailers]. I think in the next five years downtown will hit it."
West Hollywood: Boutique powerhouse
Once a genteel neighborhood of furniture shops and bookstores, the 8500 block of Melrose Avenue in West Hollywood is on the verge of becoming one of the Los Angeles area's new retail streets.
Moving onto the street are prominent retailers such as Lululemon Athletica, AllSaints Spitalfields and Ted Baker London. A Zadig & Voltaire shop opened this month. These shops' neighbors will include the Rag & Bone store at 8533 Melrose Ave. and the Urth Caffé. The organic coffee, desserts and sandwich restaurant at 8565 Melrose Ave. maintains seating that overlooks a bustling street scene. For years, it has been considered an anchor of the block.
NewmarkGrubbKnightFrank's Jay Luchs is a real estate executive who handled many of the deals on the street. He calls the burgeoning retail thoroughfare the Melrose/Robertson Corridor. It starts at the corner of La Cienega Boulevard, where Alice and Olive by Stacey Bendet is located. It passes by the Pacific Design Center, past the Alberta Ferretti boutique, and ends around Robertson Boulevard, where Maxfield—one of the major pioneers of Los Angeles boutique retail—does business. Prices in the area range from $12 to $20 per square foot for commercial space.
The block's retail cachet did not come quickly. Defunct retailer Kitson briefly operated a store at 8590 Melrose Ave. Until 2005, veteran retailer Diane Merrick ran one of the only fashion boutiques on the street. She remembers in the 1990s Melrose developer and retailer Ben Soleimani telling her that the street had not met its potential. "Melrose will be the next Rodeo Drive, just you watch," he said. She remembers laughing. "Good for you! Keep your eyes open," she said.
A new Melrose retail powerhouse could come at the expense of nearby Robertson Boulevard. The longstanding retail street intersects with Melrose near the Maxfield store, but its core retail blocks are a few blocks south of Melrose. Until the Great Recession, Robertson enjoyed the distinction of being one of the most prominent retail streets in Los Angeles, Luchs said. But it did not hold onto its status, and it saw the closing of independent boutiques such as Lisa Kline and some branded boutiques such as Ralph Lauren. Major boutiques such as Tommy Hilfiger continue to do business on the street. Lululemon, AllSaints and Ted Baker also currently run big shops there. There's been a lot of talk that these retailers will close their Robertson shops once they open on Melrose. Lululemon and Ted Baker did not return emails requesting comment. AllSaints declined comment.
But Luchs said Robertson's doldrums will not last. He's been in negotiations with high-end coffee brand Blue Bottle to open a space on the street. Blue Bottle might act as a catalyst to bring more people to the street.
"When that happens, perhaps two years from now, it can come back," he said.
Westside updates
French heritage brand Goyard will reportedly move into a space on the 400 block of North Rodeo and, when it does, one of the most prominent streets in the Los Angeles area will have no vacancy.
The biggest real estate news for the street famous for its flagships for European fashion houses such as Prada and Chanel took place this summer when luxury conglomerate LVMH bought the House of Bijan building at 420 N. Rodeo Drive for $122 million. Luchs is a veteran of brokering deals on Rodeo. He said that buying buildings is in vogue. "They are buying buildings because they never want to leave," he said.
A few miles south and west is Culver City, which previously held little boutique retail, although there is mall shopping available at the edge of town at Westfield Culver City. But Culver City's profile could be on the verge of change. The town recently saw the debut of new retail center Platform. Among its tenants are men's shop Magasin and designer women's shop Curve.
Farther west is Los Angeles' Venice Beach neighborhood, where retailers continue to move to Abbot Kinney Boulevard, the beach enclave that made the unlikely transformation from bohemian neighborhood to retail street in the past five years. This year Detroit brand Shinola opened a boutique for its watches and leather goods at 1621 Abbot Kinney. James Perse also is reportedly opening a boutique on the 1600 block.
A couple of vacancies remain on the street, said Mike Rielly, executive vice president and partner of Townsend & Associates. "Opportunities on Abbot Kinney move quickly. In a way, Abbot Kinney has even more cachet now than it did a year or two ago because legitimate national players like Vince keep landing on the street," he said. Prices range from $12 to $15 per square foot.
Further up the coastline in Malibu, Calif., Marine Layer signed a lease for space in the Malibu Village retail center. A few miles south in the wealthy enclave of Pacific Palisades, Caruso Affiliated, the developers of The Grove, are planning the Palisades Village retail district. It will include a cinema, a market and boutique retail.
RELATED STORIES