As of Thursday, September 29, 2016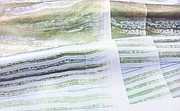 Manufacturers looking for low-minimum sourcing and larger companies looking for domestic sourcing opportunities turned out at the Sept. 26–28 run of Factory Direct at The New Mart in Los Angeles.
The show, launched in 2015, featured a mix of local and international sourcing resources as well as technology companies and other resources that can work with the requirements of small- and mid-sized manufacturers.
"We have USA, Mexico, India and Nepal," said show founder David Dea, ticking off the home countries of Factory Direct exhibitors.
Dea said in addition to local attendees, the show drew brands from San Francisco, Seattle, Houston and Nebraska.
Pacific Sunwear and The Buckle were among the attendees.
This was the first time exhibiting at Factory Direct for Shol Textiles, an 8-year-old company that produces interlining and fusibiles made in China and shipped internationally.
Owner Shane Rabineau said he met with a large company on the first day.
"It's been great," he said. "We'll do this again."
Rabineau said he was encouraged to exhibit at Factory Direct by another first-time exhibitor, Garment Alliance. The Los Angeles–based company produces apparel domestically in one of three factories in Southern California as well as in Mexico.
"We can produce up to 15,000 units per week domestically between three factories. And all our factories are compliant," said company president Mike Reynoso. "In Mexico, it's up to a million units per month."
At Factory Direct, Reynoso said he saw some big potential clients as well as companies looking for smaller orders.
"A lot want to do 40 pieces per style, which is okay," he said. "Domestically we can work with those customers. There aren't a lot that can."
Reynosa was touting the work of some of his partners, including cut-and-sew facilities Body Basics in Santa Ana, Calif., and Alom Fashion in Tijuana; screen printer Ink Throwers in Tijuana; and Sunjistix, a third-party logistics company in Rancho Cucamonga, Calif.
"We work with a lot of bigger apparel manufacturers. They're always looking for a 3PL that can work with the bigger retailers," he said.
Los Angeles–based digital print company CADfab was another newcomer to the show.
Owner Maya Roth explained that the company can digitally print on a range of fabrics from natural fibers to polyester, leather, nylon and cashmere.
"We do samples all the way to production," she said.
Scott Wilson, vice president of sales for JS Apparel, has been showing at Factory Direct since the beginning, when he met with a company that turned into a good client for JS Apparel, a Los Angeles–based manufacturer of everything from cut-and-sew knits to more-tailored woven pieces.
"The show was excellent," Wilson said. "We had quality buyers—a couple in particular who are pretty good players. If they work out, they would be big accounts. We're pleased with the outcome."