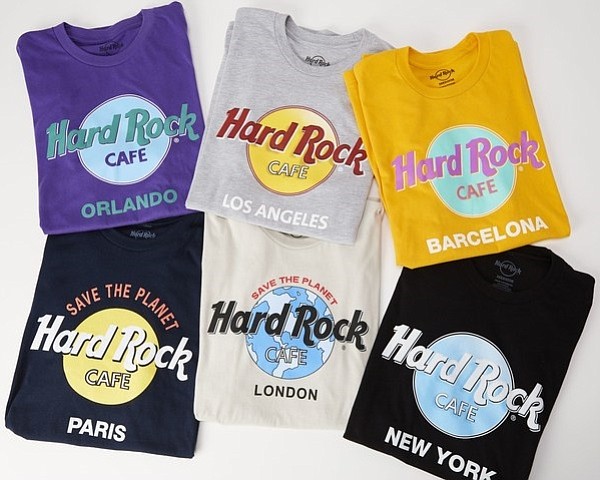 Hard Rock's Throwback Collection
People of a certain age remember when the coolest thing you could have was a Hard Rock tee from a far-flung locale. These days, you might be able to find the classic style in a vintage store. It used to be those city-specific shirts were only available locally at the Hard Rock restaurant . But no more. The company has launched a "Throwback Threads" collection featuring the classic Hard Rock logo from the '70s, '80s and '90s paired with "some of Hard Rock's favorite cities," including Barcelona, London, Paris, New York, Los Angeles and Orlando.
The classic crew-neck T-shirts and sweatshirts are designed to "reflect each city's culture and fashion history through the years." The Barcelona tee is bright mustard yellow. Orlando's is purple. Paris is navy. New York's is black (natch). LA's is gray and London's is beige.
The unisex collection is available for a limited time on the Hard Rock's online Rock Shop. The fleece sweatshirt is $42 and the T-shirt is $25.50.
"From Paris to Los Angeles, the memories made and experiences lived at Hard Rock locations worldwide are infinite," said Roger Worak, senior director of digital, CRM and loyalty for Hard Rock International. "As a way to help our guests re-live those past moments, we're introducing this vintage-inspired line that allows Hard Rock fans to get original clothing from iconic cities around the globe such as London and Barcelona, without having to leave their home."
Hard Rock International operates 175 cafes, 24 hotels and 11 casinos around the world.