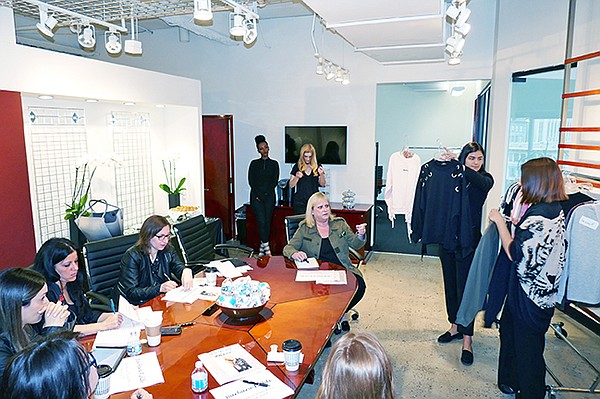 BOMBER JACKETS DOWN
Bomber Jackets Down, Denim Up, Fields Says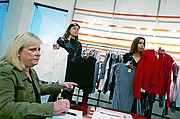 The once-ubiquitous bomber jacket is trending down. Expect to see it overtaken by denim jackets and the military fatigue-like "utility" jackets.
That's one forecast of Fall 2017 juniors styles. The predictions came from the Barbara Fields Buying Office. Barbara Fields, the company's founder, ran a series of seminars on Fall '17 style in her office at the California Market Center showroom building in downtown Los Angeles. The seminars ran April 3–5.
Fields has been conducting trend-forecasting seminars for more than 30 years. But at the recent seminar series, she introduced a new way of breaking down a wide range of juniors fashions in her forecasts. She recommended dividing up store space with certain percentages devoted to styles in a certain category.
For denim bottoms, retailers should devote 25 percent of their denim space to destructed denim, for example; 15 percent to "butt lifter" denim; 10 percent to embroidery; and 10 percent to jeggings.
Fields distributed flyers bearing store percentage breakdowns. For woven tops, Fields recommended 15 percent of store space devoted to cold shoulder, or tops where fabric does not cover shoulders; 5 percent to woven tops featuring pleating; and 10 percent to velvet tops.
She also suggested reserving floor space for T-shirts, sweaters, activewear, jackets, skirts and dresses.
Among Fields' other fashion forecasts: Denim with camouflage prints and denim featuring details such as zippers around the garment are forecast to be big sellers. Important colors for the season will be pink, mauve and gray. Lace fabric will be important. Tops and dresses with "lace-up" strips of fabric will be popular, as will be sweatshirts. Fields said that bodysuits are doing well in retail but their performance is nothing remarkable.
When asked on remedies for retail's current woes, Fields explained that trends are exhausted to the point of saturation. "Everyone is doing the same thing," she said.
To beat retail blues, she recommended the following: "Go for uniqueness. You've got to be fresh. You got to have the new," she said.
After a week of consulting, Fields will continue her quest for the new. On April 7, she traveled to London to resume her trend research.
RELATED STORIES