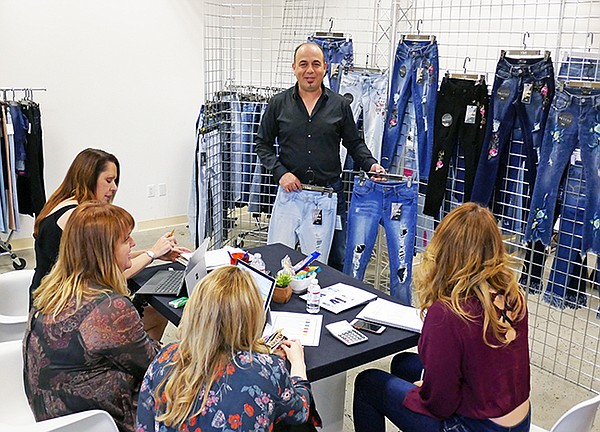 LA MAJORS
LA Majors Drives Biz Despite Market Doldrums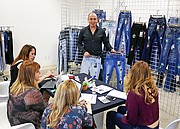 Meetings were held and orders placed during the April 3–5 run of LA Majors Market at the California Market Center showroom building in downtown Los Angeles, but a steady drumbeat of tough retail headlines underscored many conversations during the market.
Gordmans Stores Inc., a big player in the discount market, filed for Chapter 11 bankruptcy protection in early March. A few days before the Majors Market started, a subsidiary of Stage Stores Inc. made a deal to acquire at least 50 leases of Omaha-headquartered Gordmans.
Also in March, Sears Holding Corp. scrambled to calm investor fears when one of its Securities and Exchange Commission filings stated that the retailer had doubts about "the company's ability to continue as a going concern." Jason Hollar, Sears' chief financial officer, later released a statement that the retailer will remain a viable business.
In February, The Wet Seal filed for bankruptcy. Gordon Brothers Group won a bankruptcy auction for the Wet Seal name in March. Also in February, Macy's Inc. announced a 4 percent decline in fourth-quarter sales to $8.5 billion. Same-stores sales were down 2.7 percent during the quarter, which included the crucial holiday season.
Nonetheless, business continued at Majors Market. Buying teams from Kohl's, Stein Mart, JC Penney, TJ Maxx, Ross Stores, Macy's, Charlotte Russe and Dillard's shopped the market, according to Sue Bhanubandh, the CMC's vice president of leasing. Some showroom owners reportedly saw buying delegations from Von Maur and Las Vegas resorts such as Paris Las Vegas Hotel & Casino. New York brands Dollhouse, Wallflower and Jessica Simpson exhibited at the market along with Los Angeles–headquartered brands such as A. Byer, YMI and Jerry Leigh, said Brittany Carr, the CMC's director of trade shows and events.
Majors Market vendors described business as solid to good. However, vendors had to make their own market. "It is a focused market. It's just appointments," Steven Oshatz said. His New York–headquartered company At Last Sportswear Inc. showed its new line Solutions, which focuses on elevated knits such as "coatigans," or coats with a cardigan-sweater style.
"It was very solid as far as appointments," said David Vered, president of YMI. "The issue is that we are coming off of a soft March. It affected everybody."
However, he forecasted that new styles at the Majors Market will drive the fashion business. "What will drive the business is novelty denim. Basics will continue to do good business, but right now it is fashion, fashion, fashion. We are in a great cycle. It will help business," Vered said.
Showroom owner Alison Budow noticed less traffic at the Majors Market. "It's a different landscape; there are less retailers," she said.
But her Alison Budow Sales showroom made a trade-show debut of a new line during the market. Violet Moon is a juniors-related sportswear line. Much of the line is manufactured in Los Angeles. With features such as oil wash, mixed-media fabrics and directional prints, the line offers retail price points ranging from $24 to $49. Patricia Welman, a cofounder of Violet Moon, said that current retail strategies of carrying low inventory and lower average prices are not driving heavy retail traffic to bricks-and-mortar stores. There needs to be fashion newness, she said. "We need to give consumers something to buy," Welman said.
Steve Maiman of Stony Apparel Inc. said retailers continued to make solid orders. "It's been a consistent market. All of the customers are showing up with a great, going-forward attitude," Maiman said.
Sharon Koshet of the California Market Center's Sharon Koshet Sales said that market business was a case of the glass being half full instead of being half empty. "Many stores are continuing to do well," she said. "I'm excited about this year." Koshet has been working in the CMC for 40 years and runs two showrooms in the building.
RELATED STORIES