As of Thursday, April 6, 2017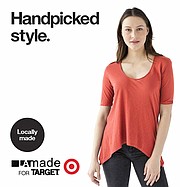 Fashion basics company LAmade was one of the brands selected to be featured in Target's LA25 initiative. The company has created a collection called LAmade for Target, which will debut this month in 25 Southern California stores including Aliso Viejo, Anaheim Hills, Brea, Carson, Culver City, Culver City South, Irvine, Long Beach, Manhattan Beach, North Hollywood, Norwalk, Pasadena, Pasadena East, Rancho Santa Margarita, Redondo Beach, San Pedro, Seal Beach, Torrance, Tustin, Valencia, West Covina, West Hollywood, Westminster, Whittier and Woodland Hills.
To get the word out about the partnership, LAmade is working with several bloggers, including BE. By Brittaney Elise (@brittaneyelise), Stephanie Escobar (@stephanieescobar_), Hustle + Halcyon's Payton Sartain (@paytonsartain) and Kangthropologie's Linda Kang (@kangthropologie).
Target's LA25
The project is part of LA25, Target Corp.'s initiative to try out new "enhancements and innovations" to see their effect on consumer experience and sales. Target selected 25 Los Angeles–area stores as a test market for new in-store features. According to a company statement, "Consumers want a great in-store experience featuring the latest in on-demand shopping. That means fast access to products, helpful team members, and easy-to-use online and mobile options."
Changes include new, more-modern sales floors with fixtures and signage, with the front of the stores serving as a showcase for new products and trends.
Stores also added a Beauty Concierge and Baby Advisors to help answer questions about products. There are digital-service ambassadors to help customers use the company's digital channels, such as the Target mobile app and Cartwheel, as well as help with in-store pickups. In the Home department, Target styles products together in vignette settings to help shoppers imagine how the products will look at home.
Target is also looking at ways to use RFID (radio-frequency identification) technology to help consumers find the products quickly. And the store is exploring more pickup and delivery options such as curbside pickup.