As of Thursday, April 6, 2017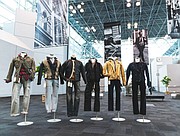 The inaugural run of Boulevard Prêt-à-Sale, the upscale off-price trade show, showcased a tightly curated mix of 70 upscale menswear brands and drew buyers from Barneys New York, Bloomingdale's, Century 21, Tiger Trading, Harry Rosen, Steinmart, TJX Co., Burlington, Ross Stores and Nordstrom Rack.
The show was held March 21–23 in the glass-enclosed River Pavilion at the Javits Center, overlooking New York's Hudson River.
"We had three beautiful days. The sun was coming through the glass. We had a deejay playing jazz," said Arnold Zimberg, who founded the show with his brother Bruce Zimberg. "It was a wild, chill, beautiful experience. And everybody did a lot of business."
The two longtime apparel-industry veterans launched the show, which is produced by trade-show giant Messe Frankfurt, to serve an untapped niche in the market for high-end offprice merchandise.
"The purpose of the show is to introduce to exhibitors the retailers that they normally could not get on the phone or get an audience with," Bruce Zimberg said.
The ambiance at Boulevard Prêt-à-Sale was low-key but productive, Arnold Zimberg said.
"It's not the typical show where you see streams of people in aisles and you don't know if they're buyers or friends or bringing lunch," he said. "Because this show is invite-only, anybody walking around is a legitimate buyer. It's the type of a show that you can sit in your booth and all of a sudden Barneys walks in. Then Bloomingdale's. That's what this show was about."
The Zimbergs took care to select the right mix of exhibitors for the launch, which included Daniel Hechter, J. Lindeberg, Robert Comstock, Michael Stars, Bill's Khakis, Pico Manufacturing, 7 Diamonds, Jet Lag, Ballin, Mundi of Westport accessories and Grigio, a shirting company from Italy.
The Zimbergs met with exhibitors before the show to determine what they hoped to get from the show. They did the same with key retailers. Armed with this information, the two made introductions and facilitated networking during the three-day trade show.
"[Some] exhibitors wanted to meet people like Barneys and Bloomingdale's. Others [wanted] see Burlington, TJ and Ross," Arnold Zimberg said. "You can't get those guys on the phone. But to see the owner of Century 21 at the show with his team, that means serious business."
Prêt-à-Sale will return to the Javits Center in the fall for an Oct. 17–19 run that will also include women's brands. The Zimbergs said they anticipate the show will remain exclusive with about 85 or 90 brands, primarily menswear with a selection of key women's sportswear labels as well.
"We want to have it manageable so all these brands can see all the attendees. Nobody gets lost," Arnold Zimberg said. "The future isn't to have a show open your doors and have a free-for-all. Those days are gone. This is the future of the business."