MANUFACTURING
One T-Shirt Line's Trash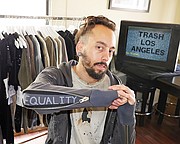 When Tal Mir quit a design job for a private-label company, he resolved to devote all of his creative energy to making a clothing line that would stand for quality and creativity. He called the line Trash. Its full name is Trash Los Angeles.
Mir said his brand name was meant to shock but also describe a creative process.
"We made the shirts look old and worn down, but there's an art to it," Mir said. "It doesn't look like a machine made it."
Mir's Trash found takers. He's landed orders for the line in high-end men's boutique Traffic, the pop-culture–focused Kitross and Flasher Melrose, all in Los Angeles.
Using scissors, X-Acto knives and even buckshot, Mir gave Trash's unisex T-shirts a distressed look. But it was a thrashing crafted by an artisan. Mir frequently makes the holes and cuts in the T-shirts. He wanted an authenticity to the shirts that could represent downtown Los Angeles. It's a place that is an address for fine art and urban blight. He lived in the district for five years.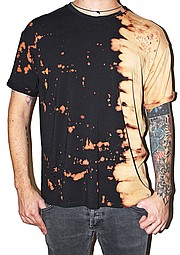 The Los Angeles–made line is made from a fabric of organic cotton and green bamboo. Mir said that he also developed washes and different treatment for the shirts. One treatment, called "The Divorce," features a smooth wax coat on the upper half of the shirt. This treatment is diametrically opposed to the lower half of the shirt, which is defined with a lighter-colored oil treatment marked with holes.
The designer also wanted to offer T-shirt silhouettes that would provide an alternative. For the past few seasons, T-shirt silhouettes have accentuated form-fitting looks and long hems.
For silhouettes, Mir looked back to classic T-shirt styles—think James Dean's 1950s looks. The silhouettes are boxy. The sleeves are rolled up. But Trash Los Angeles goes for an alternative. In the front of the shirt, hems go high enough to show a belt buckle. In back, the hems hang low enough to cover half the seat of the pants.
In another departure from the classic tee, the seam is placed off-shoulder to give the garment an artfully disheveled, hanging-off-the-shoulder look. T-shirts wholesale for $24 to $44.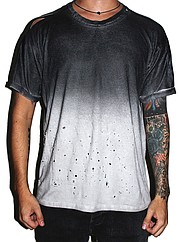 Trash Los Angeles also offers hoodies. The hoodies' French terry fabric goes through the same distress that T-shirts do. Some pieces feature vegan-leather detail. Trash's "Equality" hoodie features a panel on the right sleeve. The hand-written word "Equality" appears when the sleeve's zipper is undone.
The word was intended to make a political statement. Mir also hopes to use 10 percent of proceeds from his brand's sales to start a foundation to aid homeless people. "A lot of them don't like shelters. They ask for toiletries, blankets," Mir said.
He intends to start the organization to distribute aid to the homeless by the second half of 2017. For more information on the line, contact sales@trashlosangeles.com.