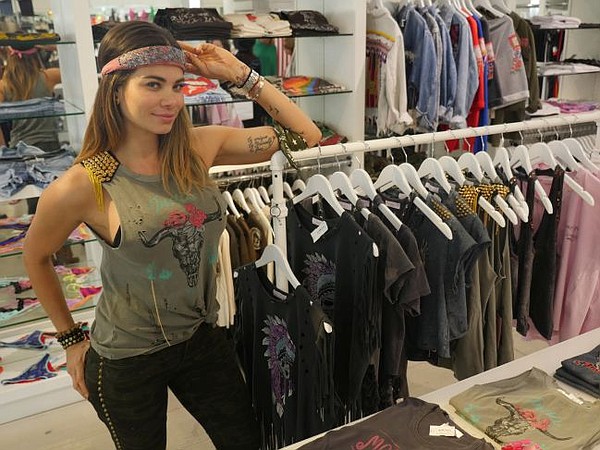 Ron Robinson's United State of Fashion
It was a time for a show. Lina Rodriguez flew in from Florida to exhibit the limited edition line Bandit & Cash for Sugar. She displayed her line's custom T-shirts at the Ron Robinson boutique in Los Angeles on April 13.
It also was time for work. Whenever Lina had a free moment at the event, she was adding new details to her brand's shirts, think studs, chains and fabric shredding.
The reason for the work/show arrangement was United State of Fashion. It was the Robinson boutique's celebration of Made in USA fashion brands.
Drinks were served as people shopped and checked out US made brands such as Cotton Citizen, Electric & Rose, Krammer & Stoudt, Madeworn, and Gladys Tamez Millinery. Also on view, US made jewelry lines Kenton Michael, Luna Skye, as well as beauty, fragrance and hair brands such as Apothia by Ron Robinson, Oribe, Osea, Winky Lux and candle brand Photogenics + Co.
Karen Meena, Ron Robinson's vice president of buying and merchandising, said supporting Made in USA is a store mission. "It's what Ron Robinson has done for 40 years. Backing home grown brands supports community and it keeps the industry going," she said.
RELATED STORIES