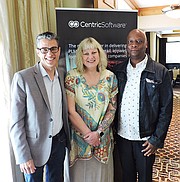 Two seasoned apparel executives—one with Kate Spade and the other with New Zealand active wool apparel brand Icebreaker—gave their insight into implementing and using Centric Software's product lifecycle management solutions at an event hosted by the Campbell, Calif.–based software company.
The April 6 event was held at the Omni Hotel in downtown Los Angeles. Centric Regional Sales Director Brian Kastner offered an overview of the 20-year-old software company, which developed the PLM software specifically for the retail, fashion, footwear, luxury and consumer-goods industries.
The idea was to make a PLM solution that was "user-centric and product-centric," Kastner said. Manufacturing and delivering consumer goods is a fast-moving business that involves many SKUs and multiple seasons, Kastner noted, unlike aviation, where color changes are infrequent and people rarely change the buttons.
"When you guys need to do a change, we're talking hours, minutes, a day," Kastner said.
Further, the system needed to adapt to changes in the business.
"You may be doing apparel today, but you may need to add footwear," Kastner said. "It's a user-configured system."
Centric PLM is a modular system that is frequently updated to keep up with customer needs and changes in the business.
"Just like your product changes, our product changes," Kastner said, adding that Centric typically releases two updates each year.
The next step for PLM involves mobile tools and applications, Kastner said.
"Now you walk into [a factory] with an iPad," he said. "We're taking you from being tethered to a desktop to being able to walk the floor with tools."
Implementing a long-overdue upgrade at Icebreaker
Sheila Moore, with Cooper Mountain Consulting LLC, is a former product manager at Icebreaker who helped shepherd the Auckland, New Zealand–based active-apparel company through a long-overdue upgrade of Centric's PLM system and the implementation of a new merchandising module. Icebreaker produces underwear, base layers, mid layers, socks and accessories made from a washable Merino wool/Tencel blend. The company produces 2,100 styles per year sold in two annual seasons. A global design team of about 20 people is split between Auckland and Portland, Ore. Icebreaker had been using Centric PLM since 2012. Moore said the company initially considered four different PLM providers.
"Centric met our requirements out of the box," she said. "We weren't interested in customization because that would increase the cost. Users could give feedback and it would be taken into consideration. And they were able to deliver a system rapidly at a competitive price."
But five years later, the company was overdue for a system upgrade, Moore said. According to Kastner, the standard upgrade migration schedule is 18 months.
"The way PLM was used had become inconsistent," Moore said. "Everyone had gone rogue. They weren't following processes to be efficient."
Moore said the company knew upgrading would improve inventory visibility for physical goods and raw materials, but "stakeholder engagement was the biggest challenge," she said. "They don't have extra time to work on the PLM project."
"Hard benefits" of upgrading the system —such as profitability—were easy to measure, but "soft benefits" such as improved efficiency were more difficult to quantify.
Moore said she set goals for the implementation such as scope, timeline and key milestones, risks, constraints, dependencies and assumptions, learning from past projects, measuring success, process development, resources, communications, testing, and training.
Because the company had already been through an implementation in 2012, it was able to look at what worked and employ that for the 2014 upgrade. For example, in the original implementation the training was done well before people began using the system. Moore said "just-in-time training," held shortly before users began using the software, proved to be more effective.
Icebreaker's cross-continental setup also created a challenge for scheduling meetings between Auckland and Portland staff.
"We had to be strategic about scheduling meetings if we wanted the whole team," Moore said.
Moore said training was done in a classroom-style setting and, on average, took about a day.
"The system is pretty intuitive," she said.
For the merchandising module, Centric interface mimics the look of Excel, which is what the company had been using.
"We walk into many accounts that have Excel," Kastner said. "[Centric] has a lot of the same functionality of Excel. It's been designed to be intuitive."
In the end, Icebreaker's upgrade was done on time with the integration of the merchandising module concluded a few months later. There are now 90 users on the system.
"We had 100 percent adoption of the new system for the Fall/Winter 2018 production creative process," Moore said, adding that incremental profit growth was expected in fiscal year 2019.
Moore said there were some improvements in the hard-to-measure soft benefits as well, including increased productivity and a happier production team.
"The change in optimism in the office has gone way up," she said. "They're not as frustrated."
Using Centric with Adobe at Kate Spade
Kevin Sheffield, manager of design technologies, Kate Spade & Co., discussed his experience training designers schooled in using Adobe programs such as Illustrator but now need to use Centric PLM.
Sheffield worked as a designer before making the transition to design technology. He spent 17 years with Liz Claiborne, which later acquired the Kate Spade label and changed the company name to Kate Spade & Co.
Adobe Illustrator has been the "tool of choice for fashion" for nearly 15 years, Sheffield said. The program is used for design, merchandising and marketing. When it came to implementing Centric PLM, Sheffield said there were a number of requirements from the design team. They wanted to stay working in Adobe Illustrator. They wanted to continue to access their library of resources in Illustrator and they wanted to be able to create multiple art boards in a single document.
Sheffield said when looking for a PLM system he created a list of 100 "designer functionality features" before narrowing down the options to four different companies.
"Centric was close to meeting all 100 metrics," he said. "They gave us a panel that was identical to Illustrator. It has the ability to support multiple art boards. We can define and manage the color library, and they utilize our established libraries. We can address all our image complexities."
Centric created an Adobe plug-in for Kate Spade that included several features that made implementation easy for the design team. For example, the Centric plug-in allowed users to carry over naming conventions from Illustrator so swatch names were retained.
"Anything I can get within Illustrator I can send over to the Centric plug-in," Sheffield said. The design team could continue to use programs such as iDraw, TexWev or Adobe Capture.
"I'm not held back by any limitation and I'm able to plug that into PLM in some shape or form," he said. "The Adobe files become part of the PLM package. We can put some basic workflow in so you can lock it down. Now that it's in the system, it's much more seamless."