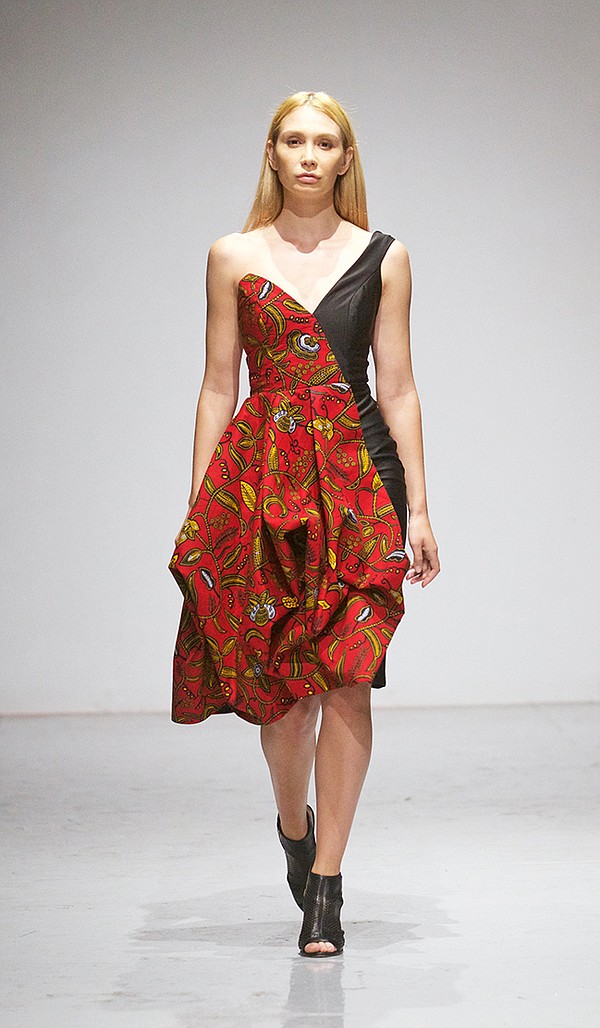 SPRING BRICOLAGE
FCI's Spring Bricolage Student Fashion Show
Photo Gallery
FCI's Spring Bricolage Student Fashion Show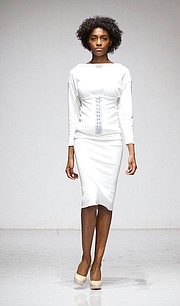 Photos by Volker Corell
Daniel Feld was a "Project Runway" star who now teaches at FCI Fashion School in downtown Los Angeles.
Like the designer contestants on the long-running fashion reality show, Feld's students had a limited amount of time—a few months—to create a fashion line. On April 6, the students displayed their designs at a runway show called "Spring Bricolage" in downtown Los Angeles' Arts District. (The word "bricolage" is a French term for DIY or creation of works made from various available objects.) The show had an international flavor, and about half of the class grew up outside the United States.
Okwechime Onyebuchi splits her time between Los Angeles and Nigeria. She showed a line called "Blossom in the Dark," which made heavy use of Ankara print cloth, a colorful cotton fabric that mixed with other fabrics such as lace for an eveningwear style.
Simay Belur was born in the Turkish metropolis of Istanbul. Her line, called "Mette," mixed traditional Turkish looks with modern styles.
Kristina Shnayder was born in Vladivostok, a Russian port city that borders China. She called her line "A.D.D." and said she made her styles for people who go to music and arts festivals such as Burning Man. Leather, vinyl and silk fashions were matched with unique crowns she also made for the line.
Kentaro Kameyama is a Japanese-born alumnus of FCI and currently serves on the faculty with Feld. Kameyama showed his "Death and the Maiden" line, inspired by the iconic symphonic piece by Franz Schubert.
He made use of sheer black fabrics and graphics inspired by Japanese calligraphy. Kameyama said the styles were meant to be part of the wearer's everyday life. "People think it is couture, but it's very casual," he said.
FCI student Christian Quinonez made a four-piece line called "Noir," which focused on a minimalistic style and black tones.
Keyona Thomas' "K Amour Discotarian" line mixed raw denim with lace and embroidered sequins.
Shaina Mangoli created a line called "Effloresce." The line sought to join fashion and modest styles that would cover a woman's arms and legs.
Rachel Yadegar and Judith Iloulian worked together on a label called "Raju." The line was called "Modest Demure" and focused on long dresses and other modest looks.
RELATED STORIES