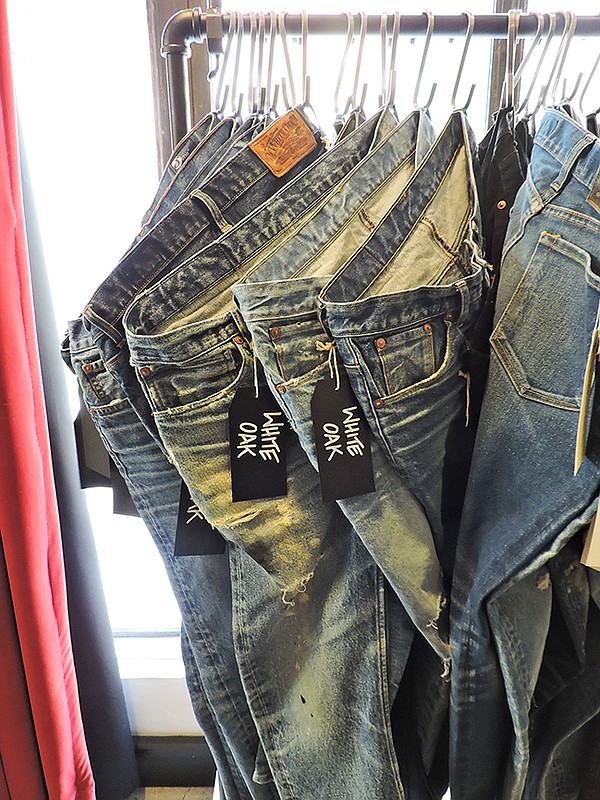 DENIM TRENDS
Cone Highlights New Developments and S/S 2018 Denim Trends at Los Angeles Event
Greensboro, N.C.–based Cone Denim—the heritage denim mill with operations in the U.S., Mexico and China—recently hosted an event in Los Angeles to highlight new developments and preview trends for Spring/Summer 2018.
The all-day event was held March 30 at the Ace Hotel, culminating in a trend presentation by Amy Leverton, a denim forecaster and author of the book and blog "Denim Dudes."
Among the developments for Cone are new selvage denim fabrications, including a selvage denim made with Cordura, a high-strength nylon fiber made by Invista. This year marks Cordura's 50th anniversary, and Invista has partnered with several mills, including Cone, to highlight the fiber's key characteristics, such as resistance to abrasions, tears and scuffs.
"This was the first time Cordura was used in selvage," said Kara Nicholas, Cone's vice president of design and marketing. "We incorporated it in the warp and weft—so it's super strong."
Many of Cone's new selvage denim fabrics have the "salt-and-peppery" look of vintage fabrics from the '80s and '90s. In recent years, Cone has been tracking down vintage selvage denim looms from the 1940s, restoring them and installing them at the company's White Oak facility in Greensboro.
"It's interesting to bring that [vintage] look on the old looms," Nicholas said.
Cone was also showing a striped fabrication that Nicolas called "the evolution of Pinto." The new fabric is inspired by a fabric first introduced by Cone in 1969 after a rainstorm flooded the mill's warehouse in Greenboro. The water-logged fabric was treated with a bleach solution to remove the original dye, which gave the end fabric a striated look.
On the horizon
It was a visit to Cone's White Oak mill that inspired Leverton to focus on denim, according to the forecaster.
"Cone, I would say, is the reason I work in denim," she said.
Leverton broke down trends into four categories: Tech Tribes, Decayed Decadence, Future Uniforms and Neue West.
Two of the trends—Tech Tribes and Future Uniforms—are inspired by streetwear and Eastern culture while Decayed Decadence and Neue West are inspired by the western U.S.
"We're seeing a really strong Western theme, very rodeo, very Wild West," Leverton said.
Decayed Decadence is the rock 'n' roll trend, Leverton said. "It's very Sunset Strip."
"This is a fashion-forward story," she said. "Gucci such an influence. They're driving the embroidery trend. They brought in the idea of kitch irony and making it fun."
Leverton described the trend as "bohemian glam."
"Silhouettes are very simple. It's about core five-pocket looks," she said. "It's high-waisted and retro."
Looks are embellished with embroidery and rhinestones, leather-inlay appliques, sequins and fringe. There are metallic yarns and washes and a continuation of the patchwork trend.
"Nostalgic patchwork is a denim trend that will not go away," Leverton said. "It's The Rolling Stones on the road in the '70s—just got back from Marrakesh."
Key looks include '70s jumpsuits, the disco shirt, the "pimped-up Western shirt," embroidery and embellishment, and "flame accents."
The Neue West trend is also Western-inspired but takes its cues from vintage Americana, Leverton said.
"This is the true vintage story of the season," she said. "It's also about remade for a new generation.
The colors are soft and "sun-faded." Mid-tone indigo hues are paired with washed-out shades of brown and peach.
"It's a very desert palette," Leverton said.
The trend also includes embellishment in the form of chain stitching, a "slightly modernized" take on "naïve hand embroidered looks," as well as sophisticated patch-and-repair surface treatments that emphasize the tactile.
"Remade is very important. Vetements really pushed that forward," Leverton said.
Key pieces include rodeo jackets, quilted vests, circle skirts and straight-leg styles.
The Future Uniforms trend is "very much inspired by heritage but doesn't look heritage at all," Leverton said.
This is the new street active trend, inspired by the '90s and workwear and activewear brands such as Carhartt, Dickies and Champion.
"It's how the youth market takes the concept of workwear and runs with it," Leverton said. "This is our sustainable story, but it's also our streetwear youth story. It's about looking at what you have and working it in a new way."
The trend is driven by a need for versatility and a desire to "simplify their style."
"It's conceptual workwear, outsized silhouettes and extreme proportions," Leverton said.
Embellishment is kept to a minimum. There is some workwear-like top stitching, and some fabrics have a bit of sheen.
The Tech Tribes trend is inspired by Asia and takes a modern look at traditional craftwork.
"This trend is taking ideas of shibori and sukajan," Leverton said, referring to Japanese shibori dye technique and the sukajan, or souvenir jacket.
"It's about looking at the east, such as Southeast Asia and Korea, and exploring Western silhouettes through an Eastern perspective," she said.
Designers are taking a contemporary look at the sukajan jacket by playing with the positioning of the artwork and experimenting with scale, Leverton said.
"I'm loving the new way that's coming to the fore," she said. "It's taking the sukajan and making it new."
Kimono prints are important, as are traditional ikat patterns, which Leverton calls "a new concept of ombre."
Designers are also experimenting with the kimono silhouette and "turning it on its head and making it new," Leverton said. "[They're] messing around with proportion and shape and modernizing it."
The trans-seasonal trend blends traditional techniques with modern, functional concepts, such as a coat made from a fabric that is technical on the inside but looks and feels like denim on the surface.
Key pieces in the trend include coach jackets, kimono hybrids, elongated shirts, reworked sukijan styles, the "lounge jean" and culottes.