TECHNOLOGY
YuniquePLM's Latest Release Includes Added Functionality, Configurability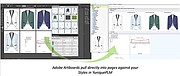 The latest release of YuniquePLM's product lifecycle management software, YuniquePLM 7.1, includes new features and additions to streamline the design process.
Users are now able to access Artboard support from the YunquePLM Design Suite Plugin for Adobe Illustrator CC17. Users can also work with a multi-page Adobe Illustrator document and assign pages to different sections within a product in YuniquePLM, according to the company, which is a division of Tolland, Conn.–based Gerber Technologies.
YuniquePLM 7.1 also has improved configurability, allowing users to group pages and "edit pages en masse."
"Bringing the power of the configurability to the user of a YuniquePLM workspace is at the heart of this release," said Clayton Parker, Gerber PLM product manager.
The new release also includes six new Pantone libraries.
According to Yunique, the new features were based on customer feedback.
"Using our user-voice feedback system, customers can request, discuss and vote on new features to be added to the core product that will help them in the future," Parker said.
Gerber Technology is gearing up for the Ideation 2017 conference, set for Nov. 1–3 at the Sheraton Universal Studios in Universal City, Calif. The event will feature a speaker series, focus sessions and collaboration activities as well as an interactive studio where attendees can get hands-on experience with Gerber products.