RETAIL
Denim Defines the Clothing Trends for Back-to-School Apparel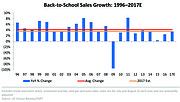 Consumer spending on clothes and other items should definitely be in positive territory this fall as shoppers are feeling more confident about their economic condition and rising housing prices make people feel wealthier.
"Consumer confidence has hit a 12-year high, but optimism is deteriorating a bit," said John Harmon, senior analyst with Fung Global Retail & Technology.
However, consumers have lowered their expectations a bit because of the political uncertainty that has permeated the country and consumers' doubts that a major tax reform is in the offing.
So far this year, shoppers have had no problem spending money as U.S. retail sales were up 3.9 percent during the first half of 2017, Harmon said.
Still, consumers are measuring their dollars. Most people were not frequenting traditional mall stores. Instead, during the first quarter of this year, online sites and off-price retailers were gaining retail territory. Stores such as Target, Big Lots, Ross Dress for Less and Burlington Stores beat earnings estimates, and e-commerce companies such as Amazon.com and eBay racked up solid gains.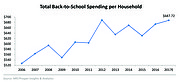 Stores missing their earnings estimates for the first quarter were Macy's, Abercrombie & Fitch, Urban Outfitters, Kate Spade, American Eagle Outfitters, Chico's and Express. "Store traffic dropped 8.3 percent in June over last June," said Harmon, who was speaking at a webinar broadcast on Aug. 10. "This was the largest decline in three months."
For the Back-to-School season, Harmon expects to see sales bubble up about 3 percent to 4 percent in July and August compared to 2.5 percent last year. "The Back-to-School consumers are buying because they have to rather than by discretionary purchasing," Harmon said.
E-commerce will see double-digit growth with Back-to-School sales jumping nearly 16 percent this year to reach $37.56 billion, which makes up about 8.6 percent of total Back-to-School sales. Last year e-commerce sales for the Back-to-School season rose 7.8 percent.
More than half of Back-to-School shoppers said they would be whipping out their smartphones, computers and laptops to make a purchase.
"Consumers plan to shop at mass merchants more and shop less at department stores and specialty retailers," Harmon noted.
Surveys showed that 81 percent of shoppers were planning to walk through the store doors of retailers such as Target and Walmart as well as discount chains such as Ross Dress for Less and T.J. Maxx.
Shoppers were also making a beeline to stores earlier in the Back-to-School season to avoid crowds and take advantage of store sales that retailers were promoting to clear merchandise off their shelves. "Twenty-seven percent of shoppers surveyed said they planned to shop at least two months before school starts versus 22 percent last year," Harmon said.
When it came to Back-to-College shoppers, 32 percent were jumping the gun and hitting the stores two months before school started, compared to 26 percent last year.
Lands' End and Office Depot were real early birds with their Back-to-School campaigns starting in June while Walmart began selling Back-to-School merchandise during the first week of July.
Not surprisingly, most people will be dedicating the majority of their Back-to-School dollars on apparel and electronics while purchases of school supplies continue to dip as technology permeates the educational systems across the country.
Purchases of clothing and accessories should average about $284, a 10 percent increase over last year. Hot items are expected to be casualwear, school uniforms, handbags and accessories.
"Fashion trends this year will be denim, denim and denim," Harmon said. "It is boho style, embroidery, embellished backpacks, dresses and jackets and backpacks and purses inspired by Prada," Harmon said.
Computers and hardware sales will garner the biggest share of Back-to-School spending, averaging about $307, but that still is down 4 percent from last year.
Overall, the consumer is in good shape. The unemployment rate in the United States was at a very low 4.4 percent in June, up slightly from a 16-year low of 4.3 percent in May.
Private-sector wages rose by 2.5 percent this June compared to the same month last year, and housing prices continued to rise with low supply and high demand.
With all this economic energy, the weather is expected to help things along. Evan Gold, executive vice president of global services at Planalytics, which charts how weather affects the retail industry and other businesses, noted that the first week of August was relatively cooler than other years, particularly on the East Coast. "That helps get consumers into a fall mindset," he said.
September is also expected to log in with cooler temperatures on the East Coast, which should lift demand for Fall apparel and accessories. "We expect growth to continue through this year and favorable weather through September," Gold said.