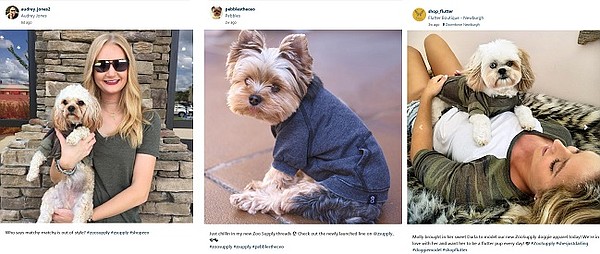 Z Supply for All
Contemporary basics line Z Supply is going to the dogs (and cats). The Irvine, Calif.–based company recently launched a pet line featuring many of the same fabrics from the Z Supply line.
Dubbed Zoo Supply, the pet line launched on the company's website at the end of July. Zoo Supply is retail priced from $12 to $22 and sales of the line raises funds for Orange County non-profit Barks of Love.
"We originally created a few pieces of pet clothes to photograph our employees' animals in for some fun blog content," said Heidi Muther, chief operating officer of Z Supply, LLC. "After we did our first photoshoot, everyone involved could not believe how adorable the pups all looked and we knew our Z Supply customers would feel the same way. We even used some of the same fabrics from our Z Supply clothing line to design the Zoo Supply pet line for intentional matching."
The Zoo Supply collection includes popular Z Supply fabrics, including camo hacci knit, sno-yarn jersey, and baby French terry. There are lightweight pullovers, athletic inspired Tees graphic hoodies in sizes small (14-17 inches, for mini and toy breeds such as Shih Tzu, Chihuahua, and Pomeranians); medium (17-21 inches, for small terriers and breeds such as French Bulldogs, Dachshunds, and Pugs; and large (21-24 inches, for breeds such as Cocker Spaniels, Schnauzers and Beagles).
Zoo Supply is already popular with pet influencers such as Pebbles the CEO (@pebblestheceo) and the company has been seeing "mommy and me" photos on Instagram of pet owners and their pets wearing matching Z Supply/Zoo Supply outfits.
RELATED STORIES