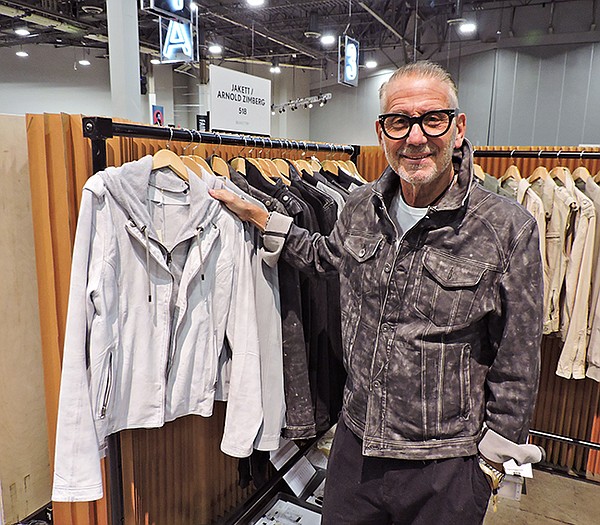 ZIMBERG
Zimberg Launches Luxe Men's Leather Line
Designer Arnold Zimberg and his brother Bruce Zimberg debuted their new men's leather jacket collection under the label Jakett/Arnold Zimberg at the recent run of Liberty in Las Vegas.
Made from lightweight, washed leather, the jackets are designed to be worn year-round and layered.
"It's not outerwear," Arnold Zimberg said. "It's a sportswear mentality."
The ultra-soft leather and suede jackets are washable and come in soft shades of desert, cloud, indigo, putty and khaki as well as washed black. One moto style features an attached hoodie. There's also a matching knit pant—perfect for brunch in Venice, said Zimberg, who has split his design career between Los Angeles and New York, where he currently lives.
"It's all about specialty finishes and washes and color," he said.
Wholesale prices start at $258 with the goal of keeping retail prices at $895 and below.
The collection also includes styles in washed linen.
Zimberg said he had a phenomenal reaction to the line at Liberty, where he met with high-end menswear stores such as Sy Devore, Mario's, Mitchells and Neiman Marcus.
"It's a great show to work," he said. "All the high-end lines are here and customers are happy they can find the booths."
The challenge in menswear is to offer something unique.
"Men don't buy what they don't need," Zimberg said. "If you've got the right stuff you're going to do well."
For more information about Jakett/Arnold Zimberg, contact Bruce Zimberg at (917) 576-7834.
The Zimbergs also founded and run Messe Franfurt's upscale offprice trade show Boulevard Prêt-à-Sale, which will host its second edition Oct. 12-19 at the Javits Center in New York.