TRADE SHOWS
Bustling at Stitch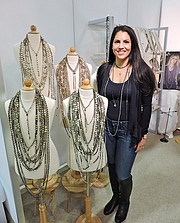 For the second season, Stitch, UBM Fashion's show for upscale women's apparel and accessories, was located next to Project Womens at the Mandalay Bay Convention Center. The location proved to be ideal for many of the exhibitors at Stitch, who were steadily busy throughout the Aug. 14–16 show.
Fashion Link owner Peter Jacobson and his team were busy working with a mix of returning accounts and new customers for eight European collections.
"They came from all over—from Haiti to Houston," Jacobson said. "I'm very happy. We are working with only European collections so we had Spring to show. If they don't write it now, they're not going to get it."
Jacobson's booths had an ideal location right at the entrance of Stitch, but he praised the overall layout of the show, which grouped higher-end collections like his together.
"It makes sense for the customer and it makes it easy for them to shop," he said.
Business was also brisk at the Nally & Millie, Lola Jeans and Elliott Lauren booths, according to Stuart Marcher, who represents the three lines in the Julie and Stuart Marcher Showroom in Los Angeles.
Marcher said he was pleased to pick up business at the show, including meeting with buyers from the Midwest, Florida, Georgia and Texas.
"The location worked out very nicely," Marcher said. "Showing the right product is also helpful—they like what they're seeing."
Rande Cohen, owner of the Rande Cohen Showroom in Los Angeles, had two lines exhibiting at Stitch: Wooden Ships and An Old Soul Jewelry.
At the Wooden Ships booth, buyers came from California, Nevada, Colorado, Washington, Florida, New York and Arizona. And buyers were writing orders for the sweater and accessories collection.
Retailers were stopping by the An Old Soul Jewelry booth, drawn in by the displays showing layers of hand-crocheted jewelry made with semiprecious stones and freshwater pearls.
Designer and Chief Executive Officer Nicole Shahar was on hand to walk retailers through the collection, which is made in a small studio in Glendale, Calif.
Shahar said she showed at Accessories the Show in Las Vegas for four years before moving to Stitch, when both trade shows were acquired by UBM.
"I love the energy here," she said. "The buyers are happy."
RELATED STORIES