TRADE SHOWS
Coeur x Project Debuts in Las Vegas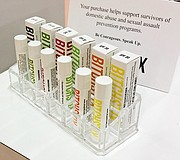 This season introduced a new section at Project Womens, Coeur x Project, a partnership between Project owner UBM Fashion and Coeur, the 6-year-old trade show focused on lifestyle lines, accessories and gifts.
Some of the exhibitors in the new section at the Mandalay Bay Convention Center had exhibited in the past at Project Womens. That was the case for Megan Hull, owner of Mame + Co., a Phoenix-based company that manufactures small-batch soy candles.
Hull praised the look and the offerings at Coeur x Project.
"The customers are better," she said. "And the layout is getting people into the booth."
Hull said the second day of the Aug. 14–16 run of the show was the busiest, landing her orders from a "good spectrum" of retailers from the Midwest, Texas and a few East Coast stores.
"I write progressively more [orders] each show," she said.
Mame + Co.'s booth was next to the booth for Bitchstix, an Indiana-based social-enterprise company that supports survivors of domestic abuse and assault. The company manufactures FDA-approved lip and body balms packaged with eye-catching graphics.
The Bitchstix booth was generating a steady stream of interest from buyers attracted by the packaging and the company message. Owner Emily W. Kennerk described the turnout at Coeur as "fabulous."
The booth for Happy Habitat by Karrie Dean was also drawing buyers in. Designer Karrie Dean makes artful throw blankets from recycled cotton and acrylic. The easy-care blankets are manufactured in the U.S.
"I feel like I'm seeing quality over quantity," Dean said. "I'm seeing the right people I want to meet."
RELATED STORIES