TRADE SHOWS
Curve Las Vegas Showcasing Swim, Lingerie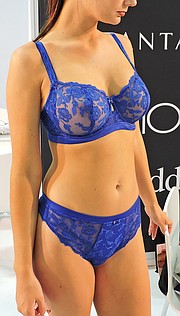 The Manhattan Beachwear booth at Curve Las Vegas, held Aug. 14–16 within Project Womens at the Mandalay Bay Convention Center, was a flurry of activity with appointments and drop-by traffic for the company's swim, activewear and resortwear collections, including Kenneth Cole, Polo Ralph Lauren, Trina Turk, La Blanca, Green Dragon, Maxine of Hollywood, Sperry Top-Sider andNanette Lepore.
"It's been very busy," said Howie Greller, vice president of design and merchandising for the company, which is based in Cypress, Calif. "We had a good appointment schedule. Everything else is walk-in. Our planned appointments were a little above last year. That's a good starting point."
Greller said that in addition to returning customers, the company also opened a few new stores at Curve Las Vegas, which is organized in partnership with Project owner UBM Fashion and Curve owner Eurovet. The show focuses on upscale swimwear and lingerie collections.
The second day of the show was busy at the Felina booth, said Rob Gardner, vice president of sales for the Chatsworth, Calif.–based company.
Gardner said the company had just concluded an especially strong Curve New York show before coming to Las Vegas.
"Last week's Curve show in New York was maybe the best ever in years," he said. "We had steady buyers the whole time. This show has been more stop and start."
Gardner said that in addition to existing customers the company met with new accounts in Las Vegas. And, he added, he'd seen "more international than I've seen in a while."
Buyers looking for new looks in lingerie and swim stopped by the Eveden booth, where representatives were showing the latest offerings from the company's Freya and Elomi collections. Eveden is part of the Wacoal Group.
From Elomi, the company's curvy collection, there were sexy, strappy bras in bright red and neon pink. In Elomi's swim collection, there was a high-neck bikini top with a built-in bra, which allows the wearer to fold the top down for more-even tan lines, said Dana Bourque, a public-relations representative for Evenden.
The Freya collection ranged from pretty bralets in "Daisy" lace in the Freya Fancies collection to fashionable sports bras with lightweight underwires in Freya Active.
RELATED STORIES