TRADE SHOWS
Pool Provides a Showcase for Up-and-Comers and Indies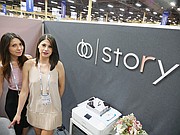 UBM's Pooltradeshow has always been a venue for independent and up-and-coming apparel and accessories brands. The Aug. 14–16 show at the Mandalay Bay Convention Center returned to its prime location next to Project near the shuttle bus drop-off.
This season, Pool Show Director Jason Peskin said there were several new features, including merchandising displays to show how buyers can add Pool exhibitors' product to their stores. The show also produced daily "happenings" such as live music and custom-apparel demos. There was also a new incubator section within Pool's cash-and-carry section, called Outpost, for brands on the verge of being large enough to show among the main exhibitors at Project. Organizers described Outpost brands as "contemporary in design at a more premium price point."
This was the first time at Pool for the Las Vegas–based, minimalist-inspired officewear brand OB Story.
"We lowered our expectations so we wouldn't be sad," said Amanda Valdez, managing director of the brand. "But I was surprised. It was good for a first time. Everyone was rushing, but we gave people line sheets."
Whittier, Calif.–based retro vintage line Voodoo Vixen was among the returning exhibitors at Pool.
Jennifer Bednar, general manager for the line, said the company moved to Pool about a year ago after exhibiting in the young contemporary section of UBM's WWDMAGIC show at the Las Vegas Convention Center.
Bedner said she was primarily meeting with retailers from the Western U.S. at Pool.
Kyle Durrie, owner of Power & Light Press in Silver City, N.M., called Pool "a sleeper show."
"Our totals each day have been strong. And orders have been good," she said.
Power & Light Press makes greeting cards with irreverent messages. The company recently expanded the line to include gift items such as tote bags.
"A lot of clothing stores are starting to branch out and carry smaller gift items," said Durrie, who founded the company in Portland, Ore., in 2009 before moving to New Mexico.
Thomas Anselmi, a salesman working at the Los Angeles Apparel booth at Pool, said that traffic had been solid for the first day.
Los Angeles Apparel founder Dov Charney said that splitting the show floors between Mandalay Bay and the Las Vegas Convention Center was inefficient.
"The show has been fragmented. There should be an effort to consolidate the shows at a single location," Charney said.
Dov also gave a pep talk to the industry. "People get too caught up in the negative. People need to stop moaning and get into the ring."
RELATED STORIES