TRADE SHOWS
Project: Big Show Drives Biz Through Small "Neighborhoods"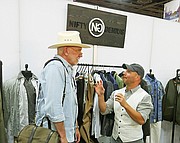 During a time of great change for retail, Project continued to be a big show.
During its Aug. 14–16 run at the Mandalay Bay Convention Center, retail buyers could find everything from fashion underwear to superhero T-shirts, sequined tuxedo jackets, camping clothes and premium denim among the estimated 1,200 booths at the show.
Many Project shows have celebrity moments. The recent show was no different. Star film director Spike Lee made an appearance at Project's Defend Brooklyn booth. Popular rapper Ghostface Killah performed at a party for Project. Like other trade shows, there were different reactions to show business. The vendors interviewed for this story were overwhelmingly positive.
Erik Ulin, president of men's for UBM, Project's owner, said that Project will continue to look for ways to build community in the sprawling show. Project aims to build "neighborhoods" of like-minded brands. One neighborhood, Move, was devoted to athleisure and performance-based clothing. It debuted in 2016 and served as a place for emerging brands to make product debuts. Los Angeles–headquartered Sweat Tailor debuted knit pants that feel like sweats but have the look of woven pants and can be worn in business settings, said David Kranz, a brand co-owner.
Peruvian label Juan Arias took a U.S. trade-show bow at Move. The neighborhood business was good for the Laird brand, the namesake line for legendary surfer Laird Hamilton, said Tracy Cox, the line's director of sales operations.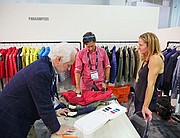 The brand signed on to exhibit at the show two weeks before it started, Cox said. "
"We didn't have one appointment, but there's been a consistent buzz here and all meetings have proved to be quality over quantity and we successfully created partnerships with new retailers we are very excited about."
Denim was an important category at Project. Exhibiting were premium brands AG, Paige and 7 For All Mankind. At the show, Robin's Jean introduced an affordable-price-point line, Robin's Red Label.
The Tents, a separate section for designer and contemporary men's looks, brought in another season with around 61 brands offering everything from premium denim to suiting and outerwear intended to take on the elements. Parajumpers, an Italian brand that showed its angle on the puffer jacket, exhibited at The Tents.
Diego Dominguez, the East Coast sales director for jeans brand S.M.N., said that the show helped with the brand's expansion. "We opened up good international accounts," he said.
Outside The Tents, Dino Di Girolamo exhibited German line Brax. At past shows, he displayed the brand's bottoms goods. For Spring '18, he displayed Brax's woven shirts. Business was good at Project, Di Girolamo said. But salespeople had to be prepared. "You have to make sure that you make appointments," he said. "We would have liked to see more walk-ins."
Don Zuidema of the LASC boutique in West Hollywood, Calif., said that Project and the other Las Vegas shows he attended seemed to have a more low-key energy.
"There were fewer vendors and fewer retailers," Zuidema said. "We had no problems getting into any booths. In years past, many vendors would say that you got to come back."
A challenging market for bricks-and-mortar stores continues to influence buys, Zuidema said.
"We stuck with the tried-and-true lines that have performed the best for us and provided the margins," Zuidema said. "It is about margins, what kind of partnership these reps and vendors want to develop with us."
RELATED STORIES