As of Thursday, August 24, 2017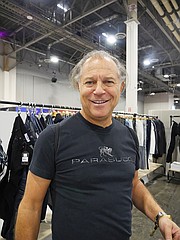 Change was on the mind of Sam Ben-Avraham, founder of Liberty Fashion & Lifestyle Fairs.
"It is an interesting moment for fashion," Ben-Avraham said while walking through the Aug. 14–16 run of Liberty at the Sands Expo and Convention Center. "There was a period of a lack of creativity. But a new creative generation has come in. We want to be part of that movement."
He had no announcements to make on the show floor, but he promised that change would be coming to his show.
Some things had stayed the same for Liberty. Attendance for retail buyers and the number of vendors exhibiting at the show, about 450, was even with the August 2016 show, for example.
But change was making its way onto the show floor. About 30 percent of the brands exhibiting at Liberty were new to the show.
Quest—Liberty's exclusive section for suiting, luxury sportswear and "sartorial dressing"—was relaunched at the recent run of the show as a devoted "curated community," said Lizette Chin, Quest's director.
The section doubled in size compared to its February show.Brands making a trade-show debut at Quest included Jomo Harajuku. The brand's president and designer, Jay Ko, crafts the suiting and sportswear brand in New York. But the label is manufactured in Los Angeles. Looks included a mesh suit lining and neoprene material on polo shirt collars.
Other brands making trade-show debuts included Slash and Burn, a Los Angeles–based line that offers knits, outerwear and tailored bottoms. High-end streetwear brand Dun­yah, based in Los Angeles, also took a bow. Lords of Harlech, a Charlotte, N.C., brand that makes its own fabrics, made a return to the show.
French brand The Kooples introduced a limited-edition holiday line that featured graphics of guitars and lettering from heavy-metal albums of the 1980s.
Basketball culture–inspired label Brandblack released a slate of collaboration footwear lines at Liberty.
Also making a debut at Liberty, Karter Collection, an outerwear line from The Lev­erage, an Irvine, Calif., company known for making jeans. The nylon bomber jackets retailed under $100. "We ran out of order forms," said Chris Ngo, cofounder of Leverage and Karter Collection. "[Retailers] were writing business then and there. They were booking the end of Q4."
Denim pioneer Sal Parasuco looked to the past for new styles. "We're going to our archives and bringing back all of our styles. We're doing them for a new generation," he said of his Montreal-headquartered Parasuco brand.
The retail market has changed the trade show. "It's not as busy as it used to be," Parasuco said. "It's expected. There are not as many retailers as there used to be."
"But we opened a lot of critical accounts. There's another reason why I do shows—networking. How do I design if I don't have information?"
Karen Meena of the Ron Robinson boutiques in the Los Angeles area also said traffic seemed down. "But everyone was writing. Everyone was doing business. Maybe the people on the fringes were weeded out. It was easier to work as a buyer," she said.
She also predicted that men should prepare for a colorful 2018. "There were a lot of colors, fun prints and soft fabrics for the season. Our clients respond well when we have a season with color. We're confident about Spring/Summer 2018 being a strong season."