As of Thursday, August 24, 2017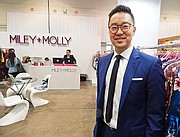 Attending WWDMAGIC, held Aug. 14–16 at the Las Vegas Convention Center, is much like going to a disco nightclub. The cacophonous vibes of various soundtracks emanate from booths displaying the latest in juniors and young-contemporary fashions.
To go along with the party scene, some booths serve free snacks to entice buyers to peruse the latest collections hanging on the racks.
Inside the THML Clothing stand, the snack options included popcorn, lemonade and sweet ice tea. But that still didn't help with traffic, which was down about 10 percent to 20 percent the first day of the show, said Daniel Paik, the company's marketing director.
"Retailers have been spending about the same as last year," Paik said.
He noted that about 30 percent of the orders were dedicated to Fall merchandise and the rest was reserved for Spring collections.
THML Clothing is a big seller at Nordstrom and Nordstrom.com, where the label's young-contemporary looks encompass cotton baby-doll dresses, raglan-sleeve peasant blouses with embroidery and off-the-shoulder styles that sell from $54 to $98.
Business was brisk at the Sweet Rain booth, whose other label is contemporary brand Alice Blue. The company's owner, Sandy Jang, said she was seeing new customers, which might have been prompted by the catalogs the company sent out recently and showing some of their latest fashions on social-media sites.
"We've seen customers from as far away as Japan, China and Latin America," Jang said. "A lot of majors came through. They didn't write orders, but they will be back later."
She said that most retailers were looking for Immediate goods and things that could be worn soon, such as sweaters.
That's why many of the show's vendors had their collections organized by delivery dates. Different colored dots and labels were placed on rolling racks to show when merchandise was available for shipping. The dates ranged from Aug. 31 all the way into next year.
Michael Kye, president of Miley + Molly and its sister label, Kaii, said retailers used to buy their merchandise at least six to 12 months ahead of time, but that has been reduced to three to four months on the outside.
"A lot of people are buying 50 units and then making reorders instead of going straight to it," he noted.
But the show was good, Kye said. He saw several big retailers such as Ross Dress for Less, TJ Maxx and City Trends who were interested in Miley + Molly, the juniors label that wholesales for $8 to $15, and Kaii, the young-contemporary label that wholesales for $15 to $50.
On the other side of the convention center's North Hall, Guy Kinberg was showing his Articles of Society jeans label for the first time at WWDMAGIC. He also had a booth at Project, where he normally sets up, but he decided to explore new territory for his premium blue jeans, which are a big seller at Nordstrom, where they retail for $64 to $68.
"So far it has been good," he said. "There are a number of accounts who make it here that don't make it to Project."