As of Wednesday, August 30, 2017
If you liked their casual-looking clothing, you are going to love their home collection.
Los Angeles company Lucky Brand has teamed up with Macy's and designed a collection of quilts, duvets, comforters, sheet sets, throws and decorative pillows that launch at 100 Macy's stores on Sept. 15. It is already available on macys.com.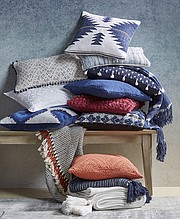 The collection launches with five top-of-bed offerings, each as three-piece sets that include a duvet cover or comforter and two shams. The bedding ranges from indigo hues in the Sienna set to the neutral tones of Ventura Waffle and Santa Fe Stripe. The idea is that all the pieces can be layered and feature 100 percent cotton for quilts, throws, coverlets and pillows.
Roberson Keffer, the vice president and home fashion director at Macy's, said the idea was to provide effortless style and vintage textiles rooted in the casual West Coast lifestyle.
Lucky Brand was founded in 1989 by Gene Montesano and Barry Perlman as a denim collection where jeans were selling at the unheard of price of $70. In 1999, they sold 85 percent of the company to Liz Claiborne for $125 million. Ten years later, the founders left. By 2013, Lucky Brand was sold to Los Angeles private-equity firm Leonard Green & Partners for $225 million.