As of Thursday, August 31, 2017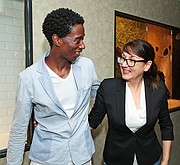 Members of the cast of "This Is Us" were on hand for an Aug. 28 event at the Fashion Institute of Design & Merchandising, held in the FIDM Museum and Galleries, amid the costumes of the 11th annual "Art of Television Costume Design" exhibition.
"This Is Us" costume designer Hala Bahmet and actress Mandy Moore, who plays one of the NBC show's leads, sat down with journalist Lesley N.M. Blume to discuss the look of the show. Fellow cast member Jermel Nakia was also in attendance at the exclusive event for FIDM alumni.
Photos by Alex J. Berliner / ABImages