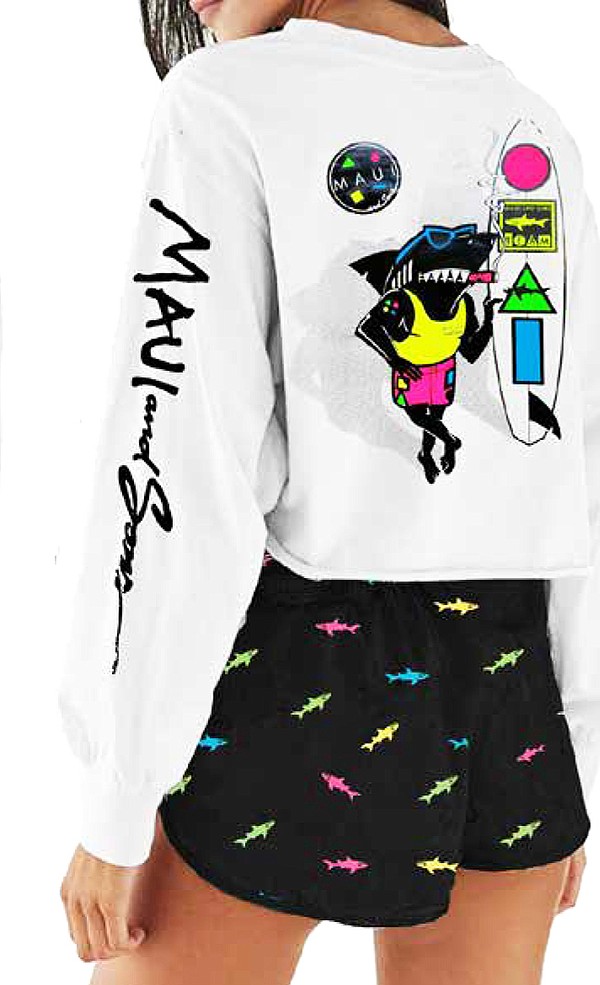 ICONS OF CULTURE
Z Supply Taps Maui and Sons for Icons of Culture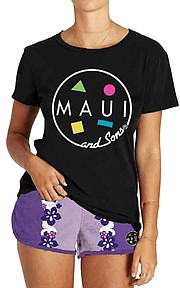 After taking a look at classic surf heritage brands Ocean Pacific and Gotcha, Irvine, Calif.–based Z Supply LLC has unveiled the next brand in its Icons of Culture series: Maui and Sons.
The debut Summer 2018 women's collection will bow at the upcoming Surf Expo show in Orlando, Fla.
"We experienced such success with the launch of our Op by Icons of Culture and Gotcha by Icons of Culture collections this past summer that it was a natural progression to bring on the Maui and Sons brand," said Greg Garrett, Z Supply LLC's c​o-owner. "We're working closely with the Maui and Sons owners to bring back original fabrications and designs and pay proper homage to the lifestyle of the '80s."
Founded in 1980, Maui and Sons is known for its cookie logo, Sharkman character and neon colors. Richard Harrington became the first international licensee of Maui and Sons in 1983 and six years later purchased the brand. In the ensuing 28 years, Harrington has built the business into a licensing company for the iconic brand with an extensive international sales presence in more than 100 countries. In recent years, the company has launched Maui and Sons Men's heritage products in key retailers such as Jack's Surf Shop, Ron Jon, Sun Diego and PacSun.
Harrington struck a one-year licensing deal with Z Supply, which will design and manufacture the ​capsule collection of women's screen-printed tees and sportswear. The women's collection, which will be retail priced from $34 to $86, will be sold in specialty stores and specialty chains across the U.S.
"Maui and Sons is proud to partner with Z Supply LLC and join the brand's quality roster of heritage California lifestyle brands," said Maui and Sons brand director Blake Harrington. "We are confident the very talented and experienced team there will introduce a thoughtfully curated and exceptionally designed women's line based around the same concepts, prints and graphics pulled from Maui and Sons' carefully preserved archives.
Z Supply first launched the Icons of Culture series in January with the Ocean Pacific and Gotcha collections. The vintage-inspired collections were developed with archival material and input from Op founder Jim Jenks and Gotcha founder Michael Tomson as well as the brand owners Iconix Brand Group and Perry Ellis International Inc. The two launch collections bowed exclusively at Urban Outfitters earlier this year. In 2018, the collections will be sold in a broad range of specialty boutique partners and specialty chains nationwide. The mission of the collection is to "tell the stories of legendary brands, musicians, artists and photographers of the past and present that helped shaped our society then and now." With an emphasis on authenticity, Icons of Culture takes inspiration in the original styles, artworks and fabrications.
The Icons of Culture Graphics collection features classic musicians such as Janis Joplin, David Bowie, The Police, Blondie and Wham! as well as theater, film and television properties such as "Lost in Space" and other partnerships with the Santa Cruz Surfing Club Preservation Society, "Endless Summer" artist John Van Hamersveld and rock photographer Tom Gundlefinger O'Neal.
Icons of Culture is part of Z Supply's portfolio of brands, which includes the Black Swan, White Crow, Others Follow, Rag Poets and Z Supply labels.