MANUFACTURING
2017 Newsmaker: Bebe Closes All Its Stores After Selling Half Its Label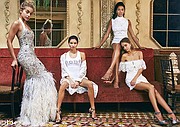 For decades, Bebe Stores struggled as its losses mounted every year. Top executives came and went but still no solution.
So this year, Bebe pulled the plug on its retail chain, closing 168 stores and laying off 700 employees as its operations wound down. Revenue now comes exclusively from royalty fees from wholesale licenses.
The chain, known for its contemporary collection of feminine and flirty dresses, had a long track record as a successful endeavor. It was founded in San Francisco in 1976 by Iranian-American businessman Manny Mashouf, who in later years transferred his design studio and much of the company's operations to Los Angeles.
For years, the company was running in the red. In 2016, Mashouf sold half the brand for $35 million to Bluestar Alliance, a New York brand-management company that has snapped up labels such as English Laundry, Nanette Lepore andCatherine Malandrino. But that didn't fix the financial problem.
In the middle of this year, Bebe terminated all the leases on its mostly mall-based stores at a cost of $65 million and decided to revamp its business model. Its leases were mostly in malls owned by Simon Property Group Inc. and General Growth Partners.
Bebe also sold its distribution facility northeast of San Francisco for $22 million and put its Los Angeles design center up for sale.
The Bebe stores may be dead, but the contemporary label isn't. Last August, with Bluestar in the driver's seat, a new collection of sexy dresses was launched with new sizes and new categories such as bridal and professional attire.
The video and photography for the campaign were shot by Emma Summerton at the famous Chateau Marmont on Sunset Boulevard.