As of Thursday, December 7, 2017
Italian fashion house Ermenegildo Zegna showed some moves when the L.A. Dance Project troupe did a performance dressed in the Ermenegildo Zegna Couture XXX Collection. The performance was choreographed by Benjamin Millepied, a former principal for the New York City Ballet, director of dance at the Paris Opera and husband of movie star Natalie Portman.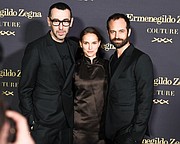 The performance took place Dec. 5 at the Sheats Goldstein residence in Beverly Hills. The Couture XXX collection features eco-friendly materials such as recycled polyester, and features denim, T-shirts, sweaters, bomber jackets, caps and sneakers.
In the audience for the performance was rapper Wiz Khalifa, Blake Griffin of the LA Clippers basketball team, model Shaun Ross and actor James Marsden.