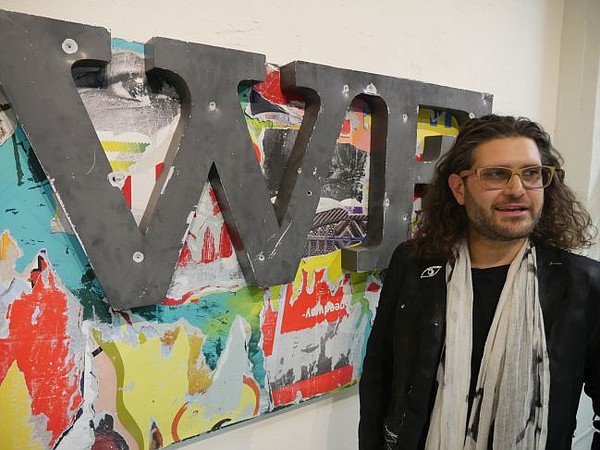 The Latest for Bohemian Society's Victor Wilde: An Art Show
A fashion designer's toolbox typically includes scissors and sewing machines, but if you are Victor Wilde of The Bohemian Society; shotguns and blowtorches are also in use.
Of course shock value was intended with this mad scientist toolbox. But it also creates an aesthetic of an outsider's fashion. Still, Bohemian Society have been part of a wider fashion conversation; celebrities such as Alan Cumming have been seen in Bohemian Society. The label has taken the runway at past Los Angeles Fashion Weeks with dresses made out of Vietnam War-era parachutes, distressed leather jackets and Marine Corps dress uniforms.
Wilde's latest stop is Mercury, his solo art show at the Contemporary Gallery in downtown Los Angeles. A reception for the Mercury show was held Dec. 15. Checking out the show was Peter Frank of arts journal Fabrik and Shana Nys Dambrot, an art critic. Dambrot said the mixed media art will be familiar to those following Wilde
"He's not doing anything different from his fashion," Dambrot said of the gallery pieces which included teddy bears, paintings and found object assemblage art. "He uses recycled and found materials in both, and uses destruction as a force of creation."
Contemporary Gallery is located at 548 S. Spring St. The show is scheduled to run through mid-February.
RELATED STORIES