As of Wednesday, December 27, 2017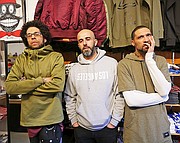 Raised in Los Angeles hopes to build a lifestyle brand starting with a unique logo and an array of T-shirts, hoodies, caps and sweatpants with a different vibe.
The 5-year-old brand recently opened a flagship store on the bustling corner of Spring and Sixth streets in downtown Los Angeles. The boutique, also called Raised in Los Angeles, carries Kennedy Manufacturing Co. and Blackwood that are friendly to the skate and urban crowds.
Raised in Los Angeles represents the perspective of people who want to make their mark on Los Angeles, whether they are born in Los Angeles or not, said Josef "J7" Lord, creative director and general manager of the store.
The brand's logo is the name Los Angeles written upside down, and some of its merchandise has a different slant. There are shirts and caps where Los Angeles is spelled out in Arabic letters. Soon, the collection will offer T-shirts with statements such as "I don't speak Arabic," spelled out in Arabic, and the word "Wow," spelled out in English and Arabic.
The owner of the brand, Ahmed Jouni, grew up in Beirut, Lebanon, and later in life moved to Los Angeles, learning English while working at Outfitters, a boutique located on the corner of Eighth and Main streets in downtown Los Angeles. Outfitters runs a second location in Long Beach, Calif.
Jouni acquired the Raised in Los Angeles brand name in 2012 while managing the downtown Los Angeles store. He later worked with Lord and his brother Nikolis Lord, an artist, to create different styles and categories.
Lord hopes to someday go beyond T-shirts, caps and hoodies. The brand has done some collaboration pieces with other labels, such as one-of-a-kind and limited-run collaboration pieces such as Realms, a graffiti artist and Feelgood Threads, a sneaker and apparel customization brand. Retail price points are around $200 while T-shirts retail for $25.
Currently the brand is only offered at the flagship and online at www.raisedinlosangeles.bigcartel.com, but it will be sold on a wholesale level again in early 2018, Lord said.
Creative director Lord said he sees the brand as a love note to the city. "Angelenos are always on the verge of something great," Lord said. "That's why it is so hard to leave."