As of Tuesday, January 31, 2017
For a taste of what fashion looked like in the 1950s in California, you might want to take a trip to Orange County where the suburban campus of the Fashion Institute of Design & Merchandising has a display of five designers who were quite influential in California during that time.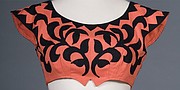 On view until June 10 are fashions created by swimwear designer Rose Marie Reid, known for her swimsuits worn by actresses such as Rita Hayworth, Jane Russell and Marilyn Monroe. In the 1959 movie "Gidget," Sandra Dee and the other female actors wore Rose Marie Reid suits.
Also on display are works by Margit Fellegi, who, for the Cole of California, designed the "Scandal Suit" with its deep-plunging neckline covered in mesh and Agnes Barrett, who is credited with inventing the broomstick skirt. Also in the exhibit are creations by Louella Ballerino and Addis Masters.
The FIDM Orange County campus is located at 17590 Gillette Ave. in Irvine, Calif. It is open from 10 a.m. to 5 p.m. from Tuesdays through Saturdays. Admission is free.