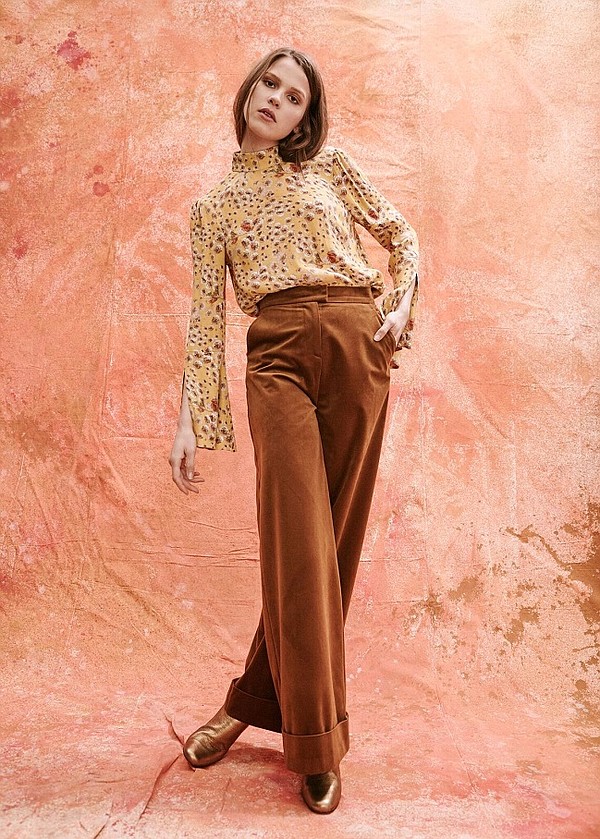 MANUFACTURING
Allen Schwartz Revamps His Company With a New Name and New Business Model
Allen Schwartz has always liked to be ahead of the curve when it comes to fashion. One of his favorite sayings is, "We are like the Marines. We land first, and we get out first. I don't want to be caught holding the bag."
For his latest metamorphosis, the founder of ABS by Allen Schwartz is renaming his company Allen Schwartz and concentrating his designs on "advanced contemporary" clothing selling for $300 to $600 to women between the ages of 30 and 45. He is changing the nameplate on his store on Montana Avenue in Santa Monica, Calif., and changing the sign on his New York showroom.
He will no longer be selling to department stores but instead concentrating on specialty stores, international retailers and e-commerce. "This is a whole new division. There is a market there with a huge hole that I call 'advanced contemporary,'" he said from New York, where he was working in his showroom and getting ready to debut the line at Coterie, taking place Feb. 27–March 1 in New York. "You are getting the consumer drifting down from designer labels that are priced prohibitively high. She has the taste. She wants beautiful fabric and a clear definition, but she doesn't want to see this merchandise all over the place."
Everything under the new Allen Schwartz label will be made in Los Angeles by contractors who are sewing the upcoming Fall/Winter collection of separates populated with prints, silk organza, vintage lace, gabardine, silk blends, lots of twill, two or three different kinds of velvet and faux fur. Schwartz sees a resurgence of the statement shoulder with puffed sleeves for blouses and square shoulders for jackets.
The decades-long observer of fashion, who started ABS by Allen Schwartz in 1982, believes women are tired of dressing down in denim and ripped blue jeans. Instead they want a stylish dress or pant outfit that can be worn at work and/or transition to evening.
"In my opinion, this is the single biggest fashion change in the last 40 years. I came into this business when people didn't wear denim. Then everyone was wearing denim. And then everybody wanted to be dressed nicely, and then nobody wanted to be dressed nicely. The whole dressing up is back," he observed. He said his Allen Schwartz concept has been in the works for the past eight months.
Still, the ABS by Allen Schwartz name will be around. He has several licenses out for that label, such as dresses done under ABS Collection, that are done by other vendors who sell to department stores and specialty stores.
But Schwartz said he is tired of dealing with department stores. In the past, he has sold to retailers such as Bloomingdale's, Neiman Marcus and Saks Fifth Avenue. "I felt my team is very talented, and we were getting suppressed every time we presented something creative. They [the department stores] didn't want it because the price point wasn't right or they would say it wasn't for their customer," he said. "I'm done with department stores. It is just not a profitable business."
Schwartz is a creative character who is constantly tweaking his styles and business plans. He is also an ardent student of fashion trends and what is selling on retail floors.
He rises early and is in his office by 7 a.m., where all creative meetings take place before noon.
Three or four times a week, he takes off in the afternoon to shop the stores in a particular Los Angeles–area neighborhood. One day it might be Venice and Santa Monica. Another day it could be Beverly Hills. Another day he might stroll down Robertson Boulevard and Melrose Avenue. He always takes his camera to capture what is on the store racks. "You can't get lazy in this game. I don't care how successful I am. I feel like there is something I could always do better," he once explained.
Schwartz not only studies what is in the stores, but he also makes a few purchases. Inside his 60,000-square-foot headquarters near downtown Los Angeles—which houses designers, sample makers, customer service and shipping—there is a large, open space carved out for Schwartz's own vintage collection of clothing he has been gathering for 35 years. He has 15,000 pairs of jeans, vintage leathers and dresses galore.
For a while, the company gained a reputation for reinterpreting red-carpet gowns seen at celebrity-studded events such as the Academy Awards and the Emmy Awards. His dresses, however, didn't sell for thousands of dollars but hundreds. His mantra has always been affordable luxury.
Affordable luxury is exactly what he is trying to provide with his latest fashion interpretation. "I want to do what we do best," Schwartz said. 'I want to be happy again."