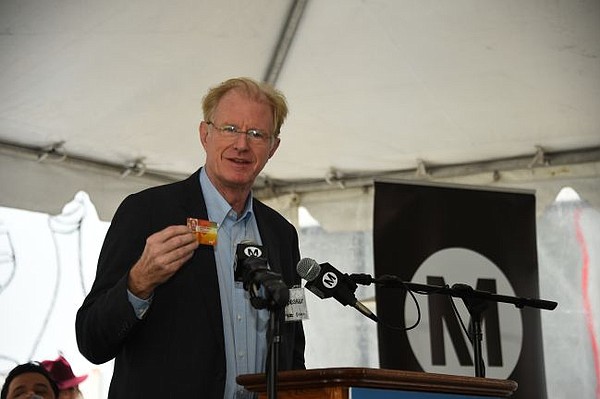 Los Angeles' Metro/Mall Bridge Opens
There's a new connection between public transportation and shopping.
Specifically, a pedestrian bridge officially opened Feb. 7 between 7th St/Metro Center light rail station in downtown Los Angeles and The Bloc, a retail center that is wrapping up a massive, $180 million redevelopment, according to a mall statement.
The bridge is the first time Los Angeles' Metro Authority has built a connection between a station and a private building.
The 25-foot-long passageway cost $9.3 million to construct and connects the mezzanine of the busy Metro station to the Bloc, which is anchored by a Macy's and also features a Sheraton hotel in its compound.
Actor and environmentalist Ed Begley Jr. spoke at the festive opening where VIPs knocked through foam blocks with hammers to officially open the passage. Notables included John Fasana, the Metro Board Chair, José Huizar, a Los Angeles City Council member and Wayne Ratkovich, president and chief executive officer of The Ratkovich Company, which is redeveloping The Bloc.