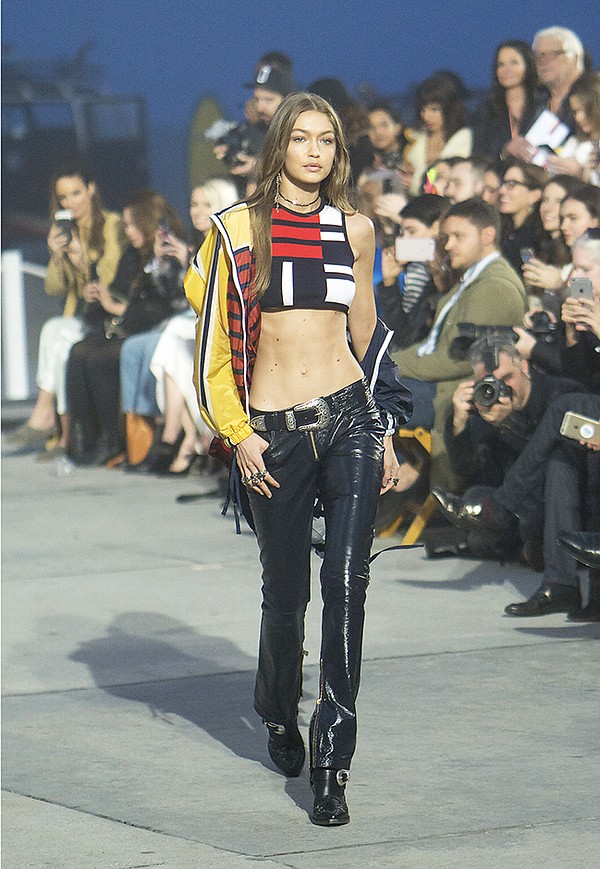 TOMMY HILFIGER
Tommy Hilfiger's Carnivalesque Tommyland Show
A fog rolled into parts of Los Angeles' Westside on Feb. 8, not the best night to produce an outdoor event, but the weather never got worse than gray and drizzly, so the big party was on.
Veteran designer Tommy Hilfiger showed his Tommy Hilfiger Women's Spring '17 line and the Tommy X Gigi capsule at Tommyland, a carnival-esque installation that took over Windward Plaza Park, a compound of concrete, green space and stages on the boardwalk in Los Angeles' Venice neighborhood.
For an audience of 3,000 people, which included celebrities such as Lady Gaga, fresh off of her Super Bowl performance, Hilfiger produced an in-season show with 55 looks juxtaposed off of a backdrop of circus rides, fire dancing performers and pop-up shops to purchase the styles shown on the boardwalk runway.
"It" girl and Hilfiger brand muse and design collaborator Gigi Hadid and her sister Bella led the runway show. Gigi wore a patchwork jacket with biker leather trouser. Bella wore a cropped polo top and a patchwork pencil skirt—both looks were from the Tommy X Gigi collection.
Other looks included lace-up leather shorts, bomber jackets and clothes with the colors of the American flag. There were stars-and-stripes T-shirts, cropped tanks, sweatshirts and shorts as well as patterned dresses that used red, white and blue colors.
Swim was an important feature of the show; there was a patchwork swimsuit, a macramé back swimsuit and a denim bathing suit.
After Tommy Hilfiger took a triumphant walk around the stage with the models, a group of skateboarders wearing Tommy Hilfiger took the runway, giving the show a Venice Beach panache; Venice is one of the cradles of skateboarding. Immediately after the show, Grammy Award –winning vocalist Fergie performed with a live band.
The extravaganza was the exclamation-point for a group of high-end shows that recently took place in Los Angeles including Raquel Allegra, who presented her Fall '17 looks at her Third Street store, and Rebecca Minkoff at The Grove retail center.
The flurry of high-end shows had many tongues wagging on whether Los Angeles will become a more prominent locale for fashion week shows. Veronica Welch Kerzner, founder of Style Fashion Week runway shows, said that Los Angeles is increasingly being embraced by fashion designers from outside the megalopolis.
"Designers are really starting to appreciate Los Angeles and its opportunities," Kerzner said the day before she started a set of Style Fashion Week runway shows at The Theater at Madison Square Gardens in New York. "The future of fashion is in Los Angeles."
Kelsi Smith, a former producer for Los Angeles Fashion Week shows, said that Los Angeles should not hold its breath. Fashion houses are increasingly seeking exotic venues to produce runway shows.
"Fashion weeks are not about fashion; they are about experiences and the spectacle," she said. "These shows have nothing to do with Los Angeles. LA is just a backdrop." Smith produced the critically well-received LA Fashion Council shows among other events. She currently works as a director for a creative agency focusing on social media and traditional advertising.