TEXTILES
Yarns and Viscose Rayon Fibers Get Tangled in EU-U.S. Tariff Fight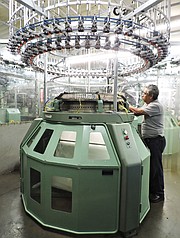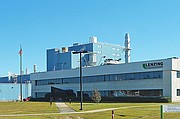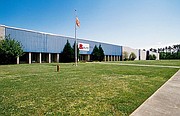 A trade war over Europe limiting U.S. beef imports led the Obama administration last year to propose a set of retaliatory tariffs on mostly food-related goods coming from Europe. But two items that fell under the retaliatory tariff proposal were textiles: viscose rayon staple fibers as well as Modal fibers, not carded or combed or otherwise processed for spinning, and single yarns containing 85 percent or more by weight of artificial staple fibers coming from Europe.
The proposed 100 percent retaliatory tariffs have left U.S. textile makers worried that new measures could increase their raw-material costs and push up the price of fabrics made from rayon and Modal. Lyocell fiber, also known as Tencel, is not included under the proposed tariffs.
The U.S. Trade Representative's office, which was taking comments on the tariffs until Jan. 30, is now holding a hearing on the issue in Washington, D.C., Feb. 15–16 and then will take post-hearing rebuttal comments until Feb. 22.
The tariffs have plenty of people worried because 41 percent of the viscose rayon fiber imported into the United States in 2015 came from Europe, translating into $72 million of fiber. Currently, the tariff on viscose rayon staple fiber is 4.3 percent and for yarn it is 9 percent.
"Imposition of an additional 100 percent tariff would be highly disruptive to the supply chain and harm U.S. competitiveness of rayon fiber-containing products," said Auggie Tantillo, president and chief executive of the National Council of Textile Organizations, which wrote a letter to the U.S. Trade Representative opposing the tariffs.
"Production of rayon fiber is nonexistent in the United States because it is very environmentally difficult to produce. It is still made in Europe and in Asia—mainly China. We are totally dependent on off-shore sources for rayon fiber, and therefore we deem any penalty tariff on that product to have adverse ramifications for U.S. manufacturers," Tantillo added.
In his letter to the government, the head of NCTO pointed out that at least 10 U.S. companies belonging to his textile group import viscose rayon staple fiber from the European Union. They said that additional tariffs would place an undue burden on their businesses and potentially lead to lost sales and hurt employment.
One company that would be affected by the tariff is Lenzing Fibers Inc. in Mobile, Ala. The company already produces Tencel fibers, the brand name for lyocell, at its Alabama factory. But it has plans to invest $293 million in a new fiber plant capable of producing 90,000 tons of Tencel fiber a year.
For that new fiber plant, the company was planning to import viscose rayon staple fibers from its plant in Austria to blend with its lyocell staple fibers made in the United States to make nonwoven products such as baby wipes. "An increase in duties on viscose would have a material negative effect on the business case for this new announced investment," wrote John Patterson, the chief financial officer for Lenzing Fibers Inc.
China is a major producer of viscose rayon staple fiber. In 2015, about 50 percent of the viscose rayon staple fiber imported into the United States came from China. "Should penalty tariffs be levied on imports from the EU, the clear winner would be China," the NCTO pointed out in its letter to the U.S. Trade Representative.
Another company that would be impacted is Buhler Quality Yarns Corp., a Swiss company with U.S. headquarters in Georgia. In its U.S. factory, it manufactures yarns from Supima extra-long staple cotton, MicroModal Edelweiss and MicroTencel.
"We are going to have to look at other fibers we can sustain if this goes forward," said David Sasso, vice president of international sales at Buhler. "The biggest fiber we buy is Supima, and our second-largest fiber consumption is in Modal. We need to provide yarns at a garment price point that people are looking for."
If the proposed tariffs go into effect, the price of Tencel yarns would become more attractive because its fiber content wouldn't be subject to added tariffs.
At Texollini, a knitting mill that makes stretch fabrics at its Long Beach, Calif., factory, there would be added costs that could not be avoided. "There are no rayon fiber factories or rayon yarn factories used in the textile industry in this country," said Dmitry Konstantinovsky, the chief information officer and purchasing manager at Texollini. "So we are basically forced to use imported products. All these tariffs just increase the cost of our inputs and make our products more expensive and less competitive with our competitors in Europe and Asia."
This trade dispute started in 1998 when the EU lost a case at the World Trade Organization for banning American beef. In 2009, the U.S. negotiated an agreement to allow a small degree of market access for specially produced beef that meets the EU's standards, but that agreement did not work as intended, said the office of the U.S. Trade Representative, which resulted in this retaliatory proposal.