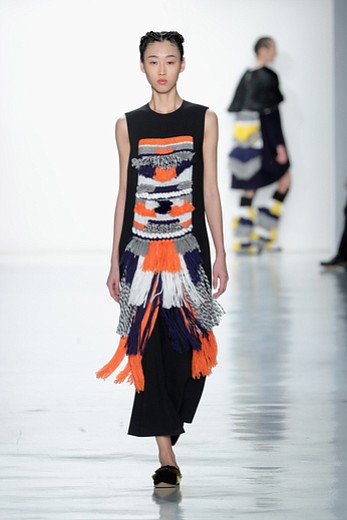 FASHION
Hong Kong Designers at NYFW
For the second year in a row, the Hong Kong Trade Development Council sent three design collections to New York to take part in the big fashion confab that dominated the city starting Feb. 9.
On Feb. 15, Harrison Wong, Cynthia & Xiao, and Loom Loop shared the runway in one show at Skylight Clarkson Square to give an Asian twist to the styles seen in the Big Apple.
This was a repeat performance by Harrison Wong as well as for Polly Ho, the force behind Loom Loop. Just a month before their trip last year to New York Fashion Week, I met Wong and Ho in their Hong Kong design shops set up inside a creative incubator that occupies an old barracks once set aside for married police officers in the Central section of the city.
The spirit of the place is a lot like a concentrated Los Angeles Arts District neighborhood with artist studios and shops situated around a central courtyard. The barracks were built in 1951 and destined for destruction. But philanthropic forces who wanted to help designers and artists thrive had the large building in the colonial section of Hong Kong converted into a creative center.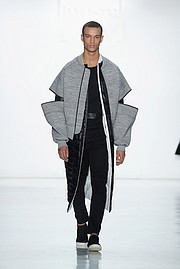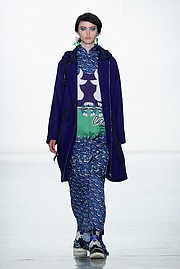 On the runway this week, Harrison Wong, for his Fall/Winter 2017 menswear collection called "Modern Monastic," drew inspiration from a recent trip to Notre Dame in Paris. The long silhouettes found throughout the collection were reminiscent of the long robes that priests, monks and abbots wear to carry out their religious duties. Combined with textured fabrics and modern patterns, Wong put a spin on traditional dress with a modern and contemporary flair.
For Cynthia & Xiao's collection, the designers Cynthia Mak and Xiao Xiao were inspired by two Chinese symbols, the rabbit and the tiger, for they not only represented protection and power, but also are the designers' zodiac signs. This season, the brand revisited their passion for Chinese traditions and continued their love of handcrafted details throughout their designs.
Designer Polly Ho, for her Loom Loop brand, drew inspiration from Chinese legends and love stories. The Weaver Girl and the Cowherd, characters from ancient Chinese folklore, were the theme of the Fall/Winter collection, and details such as magpies and cows were drawn from their story and represented throughout the collection.