MANUFACTURING
CottonlinksCA: Luxury Blanks Produced Close-to-Home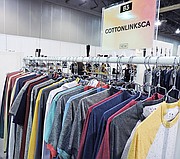 Robby Khalek has been producing apparel—domestically and overseas—for well-known brands for nearly 20 years. Recently, he saw a void in the market for a well-made blank T-shirt and launched CottonlinksCA.
Based in Santa Ana, Calif., Cottonlinks tees are made from cotton blended with eco-friendly materials such as Tencel, Modal, hemp, linen and organic cotton. The shirts are garment dyed, which means they're pre-shrunk, true-to-fit and have a soft hand, Khalek said, adding that the fabrics are all locally sourced—"supplied and dyed in LA."
The tees are made in the company's own vertical factory in Tijuana, Mexico, which Khalek opened three years ago. A second facility, in Santa Ana, Calif., is expected to be up and running in the next two months.
"We're able to turn things really quickly—45 or 60 days for any fit [in Mexico]," he said. "We're five to 10 minutes south of the border."
Wholesale prices start at $8 for basic styles up to $16 for hemp tees.
"We're happy we're vertical; we want to give that value to the consumers," Khalek said.
For the launch of CottonlinkCA, Khalek assembled a team of fashion-industry veterans, including Randy Mello and Jason Bates. All three were on hand to launch the line at the recent Capsule trade show in Las Vegas.
In addition to the blank tees, the company has formed CL+CA, a curated collaborative collection of direct-to-consumer tees. These "micro fashion collections" showcase the work of Southern California artisans and independent businesses, such as surfboard shaper Jeff "Doc" Lausch, ceramicist Andrea Luna Reece, Sessions Deli in Orange County and British Customs, which makes motorcycle parts and accessories in Gardena, Calif.
"We want to show California-based creativity," Khalek said.
For more information, visit, www.cottonlinksca.com.