SWIM/SURF
Courtney Allegra: Designed to Stand Out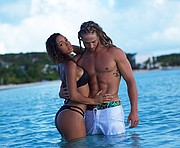 Courtney Allegra's collection includes everything from the tricot fabrications typically used for swimwear to an ultra-fine microsuede, which is quick drying and has a luxe, lightweight hand.
"Those one-pieces have probably been our bestsellers," Allegra said. "They cling to your body. It's super thin fabric, it's soft—it's just amazing."
The Courtney Allegra swim collection launched for Summer 2015, beginning with women's styles before gradually adding men's suits as well.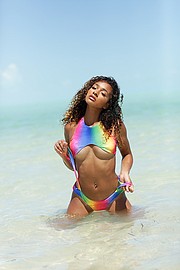 The women's collection includes string-tie bikinis, wrap tops and ruched bottoms. The "Fiji" one-piece has a high-cut leg and a zip front. Styles come in a mix of fabrics, including microsuede in natural shades and brights, printed velvets, metallics and prints, including several original patterns—including "Sun Leopard," an animal print on an ombré background; "Fishies," a brightly colored fish graphic pattern on a white background; and "Tropicana," a lush green botanical design.
In September, the designer opened her first retail store, on Los Angeles' Melrose Avenue. Allegra would like to eventually add a second boutique in Miami, but for now the LA store serves as a showcase for her brand and a place for customers to feel the fabrics and try on the suits.
"It's different to touch it and see how it molds to your body," Allegra said. "I also have some interesting designs that you can't try anywhere else."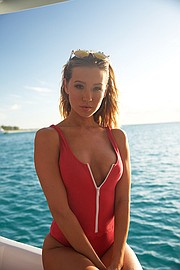 Customers have been coming into the store to try on Allegra's "UB" top, a daring style cut to offer a glimpse of the underside of the breast. The women's collection also includes cover-ups, including a halter-style dress with ruched skirt and a romper version. Many of Allegra's suits work as crossover pieces that can be paired with ready-to-wear.
For men, there are boardshorts and T-shirts with more styles in the works. She's also developing several surfboards made from an eco-friendly foam and featuring some of her original prints. She hopes to have the surfboards in the Melrose store by summer.
In addition to the retail boutique and online shop (www.courtneyallegra.com), the collection sells in boutiques in Southern California as well as at the Royal Hawaiian Resort in Hawaii. Wholesale prices range from $20 to $40. For more information, visit www.courtneyallegra.com or call (619) 778-3412.
RELATED STORIES