SWIM/SURF
Revel Rey: Focus on Fit, Fabric and Fun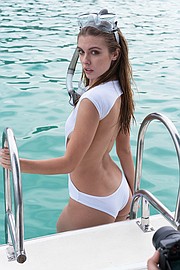 Before launching Revel Rey at Miami Swim Week last July, designer Audrey Swanson wanted to perfect the look of her swimwear collection.
Swanson is a former interior designer, textile designer and graphic designer, and a scuba diver with a deep knowledge of what works in the water.
"I spent months working on fit, going back and forth with my manufacturer just on sizing," Swanson said. "We had multiple fit models, and we did a variety of fits."
Swanson spent time finding the right fabrics—looking for something that sat well on the skin and didn't cut into the body. And she thought about the styles, creating reversible separates that can be mixed and matched as well as one-pieces with unique details. The "Grace Jones" one-piece features printed mesh and a T-back design. The "Appaloosa" is a reversible halter style. The "Santos" is a daring backless one-piece with a deep-V mesh piece in front and cap sleeves.
"Since I'm an artist, I can get really creative with one-pieces," Swanson said. "I tried to think of unique fits that could be logical. They weren't too complicated to get on. They don't have too many crazy straps. I wanted them to be our standout pieces, and our one-pieces are by far our bestsellers."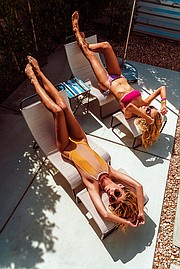 The separates include tiny triangle bottoms as well as high-waist styles. There are bandeau and triangle tops as well as strappy high-neck styles. Swanson designs all the prints, which are engineered for each style.
Revel Rey is designed for "somebody who likes a little sexiness but still likes to have fun," Swanson said.
Swanson's company is based in Washington, D.C., and the suits are made in Colombia using fabric that is sourced from that country as well. Going forward, Swanson is adding a few more detailed pieces, which will be produced in Bali.
Wholesale priced at about $80 for one-pieces and about $70 to $80 for a bikini set, Revel Rey sells at Diane's Beachwear, Butterflies and Bikinis, Aisley & August as well as on the company's own site (www.revelrey.com).
For more information, visit www.revelrey.com or sales@revelrey.com.