TEXTILES
Lenzing Opens New Tencel Facility in the U.S.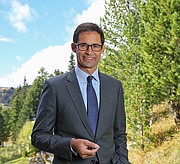 Lenzing is expanding its U.S. operations for production of Tencel fibers in Mobile, Ala.
The new facility will have a capacity of 90,000 tons of fiber and represents an investment of nearly $300 million.
Lenzing will build the new plant on the site of its existing facility in Mobile. Once completed, the new facility will be the largest Tencel fiber plant in the world. The facility is scheduled to start production in 2019.
Lenzing's current global Tencel capacity is 222,000 tons per year. The new plant in Mobile will increase total Tencel fiber capacity by more than 50 percent by 2019, according to the company, which said the infrastructure at the current Mobile site and "attractive energy costs" in Alabama led to the decision to build the new facility.
"This investment represents another major milestone in the implementation of our corporate strategy sCore TEN. It will bring us a big step further to reach our target of 50 percent revenue from specialty fibers by 2020," said Lenzing Chief Executive Officer Stefan Doboczky in a company statement. "This expansion also underscores our commitment to all our Tencel fiber customers, who continue to make their products even more sustainable using Tencel fiber."
To help drive the company's growth plans, Lenzing named Heiko Arnold the chief technology officer, a new position for the company that combines technical, operational and engineering responsibilities. Arnold was previously with BASF, working in operations as well as research and development.
"We are pleased to welcome Heiko Arnold, a further expert with broad international experience, to Lenzing's Management Board team," said Hanno Bästlein, chairman of the Lenzing Supervisory Board. "Lenzing is on a successful, dynamic growth course with the development and implementation of the new sCore TEN corporate strategy, and that makes an increase in the management board to four persons a reasonable step. His 15 years of experience in Asia, in the realization of major investment projects and in operational excellence, make Arnold a perfect match for the challenges faced by Lenzing."
Headquartered in Austria, Lenzing produces premium sustainable cellulosic fibers including Tencel, Lenzing Viscose and Lenzing Modal in production sites around the world, including the United States, Europe and Asia. The company produces 965,000 tons of fiber for the global textile and nonwovens markets.