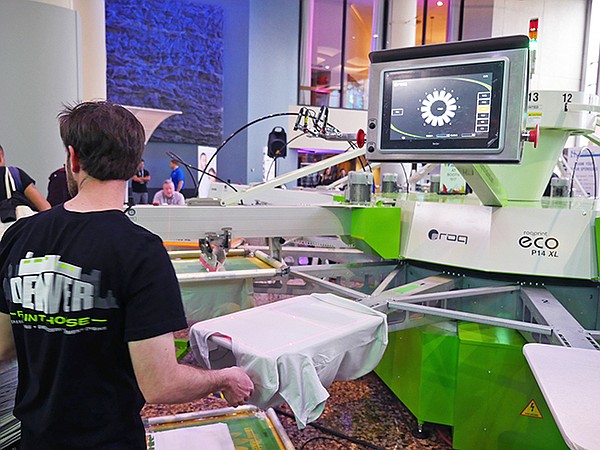 ISS
Despite So Cal Floods and Rain, ISS Show Grows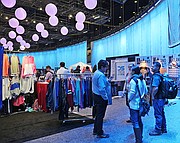 When the most powerful storms of the winter hit Southern California on the weekend of Jan. 20, news headlines showed flooded streets and freeways.
Yet in defiance of the harsh weather, crowds still found their way to the Imprinted Sportswear Show at the Long Beach Convention Center in Long Beach, Calif., Jan. 20–22. The event's attendance increased 2 percent to 4 percent compared to last January, according to Jeff Brown, ISS group show director.
About 14,000 people visited the show, devoted to companies that screen-print, embroider, and embellish apparel and accessories. It was the biggest ISS Show since 2001, when the event was acquired by trade-show producer Emerald Expositions, which also runs the Outdoor Retailer, Surf Expo, and Swim Collective and Active Collective trade shows. Vendors reported big crowds on the first two days of the show and lighter traffic on the third day, when the second powerful storm of the weekend hit the region.
ISS's real estate also expanded. Along with filling up the trade-show floor of the convention center, the show also added 6,000 square feet by expanding into the convention-center compound's Arena section. There, show producers developed a new space for a food-truck court, gallery and booth space, as well as open space for meetings and seminars.
ISS grew during a month when other Southern California trade shows reported light or flat buyer traffic. The growth came at a time of change for businesses that manufacture basics and those that print art and logos onto T-shirts, hoodies and sweatpants.
The market currently favors domestic production, said Ryan Moor, chief executive officer and founder of Ryonet, a Vancouver, Wash.–headquartered manufacturer of screen-printing machines.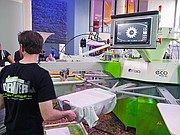 "People are choosing to print in the U.S. rather than overseas," he said about a fashion business where "speed to market" supply chains are of increasing importance. "You can't wait a couple of months to receive freight from China."
Consequently, more domestic entrepreneurs are getting involved in this market as screen-printers, he said.
ISS also serves a big market for promotional items such as T-shirts distributed to employees during marketing campaigns, as well as those making merchandise for nonprofits, entertainers and Internet celebrities. The Steel Standing Memorial Foundation, a New York–based group that honors the memory of the 9/11 attack and raises funds for nonprofits through art, shopped T-shirts at ISS.
Jerry Meng runs ProductsGo, a fulfillment warehouse in La Mirada, Calif. He dropped by ISS on a research trip for a merchandising project for those hoping to do marketing through T-shirts and caps. "They want to brand—they want that direct visibility and sometimes the best way to capture that is to print or embroider their image right on the garment," he said of his prospective clients.
Brands such as Nike and Under Armour toured the trade show. Major retailers such as Macy's also sent representatives, Brown said. They attended to see the latest in apparel printing machinery and technology as well as the newest looks and styles in T-shirt silhouettes.
The show is a market for all kinds of businesses, said Jeanene Edwards, vice president activewear marketing and merchandising for Fruit of the Loom Inc., headquartered in Bowling Green, Ky. "You get the guys sending out large containers of goods to those buying 200 shirts for the high school band," she said of the show's attendees.
Basics brands exhibiting during the show included Fruit of the Loom, Hanes/Champion, Delta Apparel, Next Level Apparel, Bella + Canvas, Gildan and American Apparel.
American Apparel made headlines recently when Gildan acquired the intellectual property of the once-prominent basics manufacturer for $88 million. A U.S. bankruptcy judge approved the sale to the Canadian-headquartered Gildan on Jan. 12. While American Apparel ran a 20-foot-by-50-foot booth at the show, questions on the ultimate fate of American Apparel and whether another company was going to grab its market share were big topics at the show.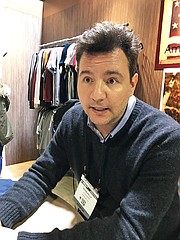 "American Apparel is being purchased by a Canadian company. There are questions on whether it will remain a U.S. made company," said Kevin Kelly, chief executive officer of US Blanks, an ISS exhibitor and a basics manufacturer headquartered in Vernon, Calif., just outside of Los Angeles. "A lot of our consumers had questions and concerns about it. A huge amount of people were coming in looking for a source for a made-in-USA supply chain."
Kelly said that it is not typical for vendors to take orders at the show. "It's more of a networking place where people can see and touch garments and discuss their needs for sourcing," he said.
Debuts at the show included US Blanks' upcycled tee, which is made out of Recover, a fiber made from 100 percent recycled materials including T-shirt cuttings and recycled bottles. Bella + Canvas exhibited its Black Heather tee, which mixes one of the most popular T-shirt colors—black—with the popular heather yarn. Fruit of the Loom introduced its tri-blend Jerzees shirts, which offer high-end looks at lower prices, Edwards said. Gildan expanded its program of clothes made with technical fabrics. Alternative Apparel introduced The Keeper, a 50/50 poly-blend shirt. Next Level, headquartered in Gardena, Calif., introduced Inspired Dye, a garment pigment dye that offers a softer feel to the shirt.
T-shirts and basics made out of soft fabrics have become the dominant style. Another trend: Reflective inks and foils are becoming more popular, said Cody Corsano, a production manager for New Buffalo Shirt Factory, a screen printer headquartered in Buffalo, N.Y.
Corsano also noted that machinery for printing and embroidering clothes is becoming increasingly automated.
Ryonet showed the Roq Oval screen-printing press, which promises to place flocking and foiling on T-shirts in a one-step operation. It also introduced ROQfold The Folding Machine during the show. The machine promises to fold any kind of garment with great speed, 800 pieces per hour, according to a Ryonet statement. During ISS, Epson, another maker of printing presses and inks, displayed its SureColor line of printers.
RELATED STORIES