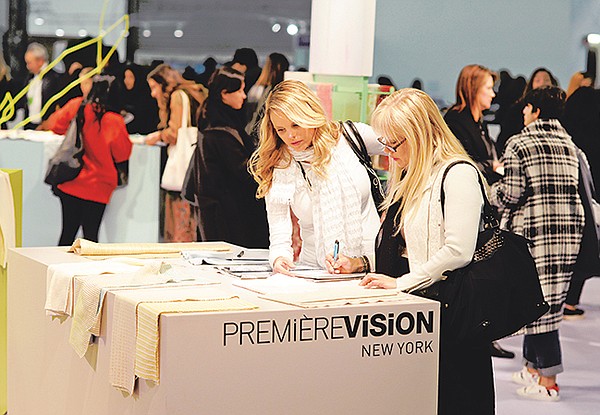 PREMIERE VISION NY
U.S. Economy Fuels the Conversation at Premiere Vision New York
NEW YORK—The U.S. economy was a major point of discussion at the Première Vision New York international textile show, which hosted its 34th edition Jan. 17–18 at Pier 94 in Manhattan, two days before the inauguration of President Donald Trump.
"The fashion world is questioning itself," said Première Vision International Exhibitions Director Guglielmo Olearo. "What will be the attitude of the new president? To women? To the gay community? Both of are a large part of the fashion community. On the other hand, under the new president, there may be more pressure to have garments produced in the United States."
This year, 287 exhibitors from all over the world showed up at Première Vision to display fabrics, leather, accessories, designs and manufacturing while younger designers enjoyed the benefits of Première Vision's renewed collaboration with the Council of Fashion Designers of America—including smaller-scale orders and expert guidance.
"We have to highlight young designers," Olearo said. "They are the future of our industry."
One of the more-seasoned exhibitors was Megisserie Richard, a luxury leather producer headquartered in Millau in the South of France. Last year, Chanel acquired a stake in the company.
"The dollar and the euro are almost equivalent, so customers are getting used to our products and pricing," said the brand's sales manager, Wendy Richard. "We keep exhibiting because we want people to know us even if we don't sell immediately. The Italian and European markets know what we do very well. We want to show the American market what we're able to do."
Another exhibitor interested in exposure is Andrea Ramponi, who works on the sales team for crystal and stud manufacturer Ramponi. He has been to Première Vision six times.
"In one day, I'll make 30 contacts," said Ramponi, who acquired clients such as Calvin Klein and Phillip Lim at previous Première Vision New York shows and exchanged cards with a buyer from Lafayette148 this time.
"Not everyone is immediately ready to spend, but they do after a relationship is formed," he said.
Peter Voegtlin, sales manager at German textile company KBC Fashion, agrees.
"Business is not only transactional, it's also about relationships," said Voegtlin, adding that his customers are willing to spend a little bit more for eco-friendly products—but not much more. "If you're known for what you're known for, people come back," he said.
Regarding the current state of affairs, Voegtlin tried to stay optimistic while remaining realistic.
"Nobody understands why a person like [Mr. Trump] could even be elected," Voegtlin said. "On the other side, we'll see what he is going to do. He only cooks with water, too."
Sandrine Bernard, executive vice president of lace manufacturing company Solstiss USA, also wants her clients to have peace of mind.
"People are looking for beautiful novelties—something colorful and different," said Bernard, motioning to pastel charmeuse lace with flowers and sequins. "Business is tough for everyone—so we're all looking for beautiful pieces that make us feel more happy, beautiful and light in the current atmosphere."